Does this look like fun?
This musical water play is based on an actual instrument called a gourd water
drum. Found both in Africa and in the ancient Mayan culture of Mexico, this drum has a completely unique and amazing sound that is deep and resonant and can be heard for long distances. Here's a picture of an actual gourd water drum.
Originally made from a bushel gourd as the bowl and smaller gourd pieces as the stand and the floating resonator, we've come up with a fun way to try this at home that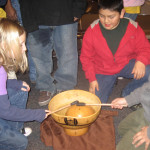 makes for great play, especially when the weather is hot!
First, take any kiddie pool and fill it with about 1-2 inches of water. Next add round items gently into the surface of the water. Last, tap them with homemade beaters like an unsharpened pencil, wooden spoon or make your own beater by wrapping electric tape around one end of a stick or a wooden dowels.
Tips For Drummers
Tap gently, and listen for the sound. Each floating drum head will sound different try. Which sound do you like?
If the floating drum head has sunk into the water, you'll lose the quality of sound.  Lift it up and set it back on the surface if the water to continue playing.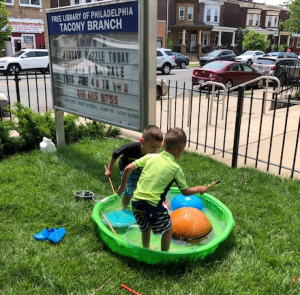 Put on your favorite summer songs and tap along with the music.
If you enjoy this unusual drum and want to play more -  look for other potential floating drum head at places like yard sales, garage sales and thrift stores. It's a great way to continue this fun and exciting sound and sensory activity.
Can You Step Into The Pool While Drumming?
Sure! They did it in the video and play session pictured above. Go ahead, as long as it's okay with mom, dad or whoever else is watching.
Links and Resources
MYO Drum Beater – http://www.tinytappingtoes.com/classroom-music/make-a-little-drum-beater-for-a-big-drum/