Do you have a young drummer in the house?
You'll love this simple but awesome drum craft! It's based on the idea of bucket drumming – taking an unexpected item like a paint bucket and turning it into a drum.  But instead of buckets, this craft reuses coffee cans and here's what it looks and sounds like.
Reduce, Reuse and Recycle a Coffee Can
Start with a regular coffee can, find two unsharpened pencils and tap away. Or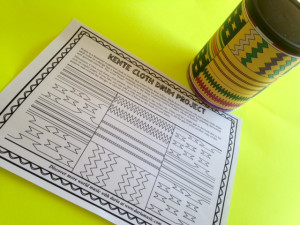 you can print out one of our drum "skins" to color and personalize with your young drummer.
The design we've created is based on kente cloth, and each color is symbolic of a trait like beauty and strength.
Two Beaters, Two Heads or Use Your Hands
Try tapping the drum with both sides of the unsharpened pencil. Each will create a different sound. Notice that most coffee cans have a metal side and a plastic one as well. Both sides will also offer a different tone when played. Need more ideas for beaters? Check out our MYO drum beater post below.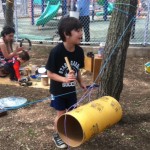 Drum Roll, Please!
A great way to develop motor skills is learning to create a drum roll. Try this by tapping – slowly at first, but consistently – left stick, right stick, etc. Start slowly and build your speed for an impressive sounding drum roll!
Bang on the Drum All Day
Here are some playing tips and suggestions:
Tap with your hand
Play free form to your favorite music
Tap to the beat of your favorite music
Make several drums and play them together
Make a DIY bongo drum set and try hand drumming (activity pdf below).
Find other objects to add to a drum kit
Pots and Pans?
The classic image of a child at play with drums is one of playing pots and pans. I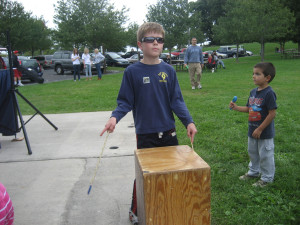 like to caution parents here that the sound from striking a metal pot with a wooden spoon can be potentially damaging to a child's hearing – or a parent's sanity.
Instead of a wooden spoon and metal pots and pans, try cardboard boxes, plastic bowls or containers. If you have a washboard, break that out, too and play if with spoons, a whisk or a wooden spoon.
And – by all means…rock on!
Links and Resources
Kente Drum Coloring Page https://www.teacherspayteachers.com/Product/Kente-Cloth-For-A-Drum-Craft-Coloring-Page-4248662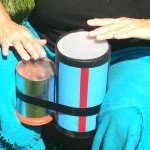 Kente Drum Activity on TPT https://www.teacherspayteachers.com/Product/Kente-Cloth-African-Drum-Craft-3525491
What Do The Colors in Kente Cloth Mean? https://www.teacherspayteachers.com/Product/Kente-Cloth-What-Do-The-Colors-Mean-4250185
MYO Bongo Drum  https://www.teacherspayteachers.com/Product/Latin-American-Instruments-Make-And-Play-Bongo-Drums-1430615
MYO washboard post http://www.tinytappingtoes.com/babies-and-music/play-a-washboard-with-your-child/
MTO Drum Beater http://www.tinytappingtoes.com/classroom-music/make-a-little-drum-beater-for-a-big-drum/