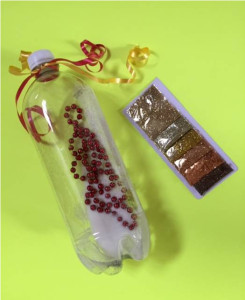 Many new parents – or tired parents – opt to stay home on New Year's Eve and ring in the New Year with the kids! Even if you won't stay up until midnight – you definitely need some fun noise-makers to mark the coming of a new year!
Here is a new New Year's Eve project – big bottle shakers – as well as a list of favorite noise-making crafts from the past few years. Monkey drums and vuvuzelas, anyone?
Oh yes, and a very happy new year to all!
Big Bottle Shakers For New Year's Eve!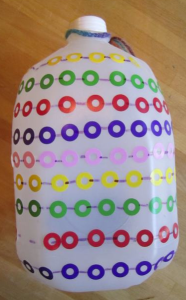 Kids like to make lots of noise and these big rattles are perfect for safe and easy noise-makers. Start with a large recycled bottle (with a lid or cap) that's clean and dry. Gallon milk jug containers and liter soft drink bottles work well for this craft.
Step One is to fill with whatever you have on hand. For louder rattles, add items like extra jingle bells, buttons, pebbles, dried macaroni or paper clips. For quieter rattles, add things like birdseed, sand, salt or sugar. Before you close the cap and seal the rattle, consider adding a bit of bling. Maybe some glitter that you have on-hand or some MYO confetti? (BTW, Our next post is MYO confetti – it's messy but super simple!).
Step Two. Once you've filled your bottle with things that jingle and jangle, close the lid and seal with a sturdy tape, such as colorful electrical tape. This keeps the contents inside and makes the project more child safe.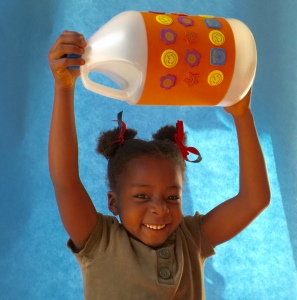 Lastly; if you like, you can decorate the outside. You can add stickers, colorful tape or draw with permanent markers. You can also adorn the handle with streams of ribbon or yarn. This is a great way to recycle extra holiday wrapping and put it to a good use!
What else can you make? Check out these favorite posts from New Year's Eves past.
New Year's Eve Noise-Makers With Wrapping Paper Rolls http://www.tinytappingtoes.com/babies-and-music/noisemakers-new-years-eve-craft/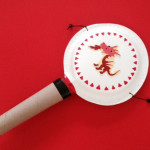 Bolang Gu – A Chinese Monkey Drum Craft https://www.teacherspayteachers.com/Product/Monkey-Drum-Chinese-New-Year-Drum-Craft-1748044
Make Your Own Vuvuzela Stadium Horn https://www.teacherspayteachers.com/Product/The-Vuvuzela-Make-Play-Your-Own-South-African-Stadium-Horn-1242716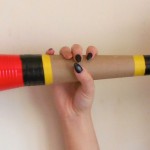 Everything But The Kitchen Sink Rattles  http://www.tinytappingtoes.com/early-learning-with-music/new-years-eve-noisemakers-recycled-rattles/