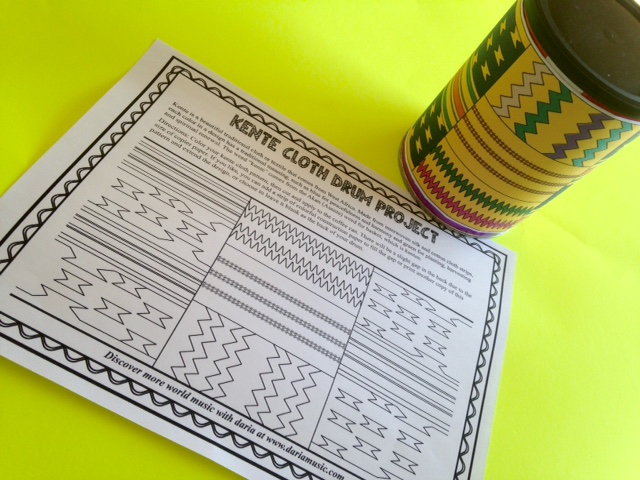 The winter holidays are such a beautiful and festive season.  Will you be celebrating Kwanzaa this year?  Is Kwanzaa part of your family or community? If this holiday is new to you, here is a beautiful book and a fun craft to introduce children to the spirit and the history of this holiday and let them create their own kente cloth drum!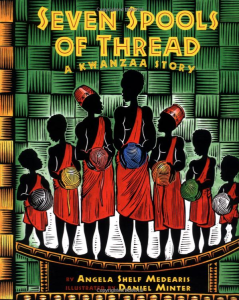 Seven Spools Of Thread
Seven Spools of Thread is a book that was written for Kwanzaa about kente cloth, a beautiful traditional fabric woven in Uganda.  Written by an amazing author, educator and chef, Angela Shelf Medearis, the book begins with a brief history of Kwanzaa and it's Seven Principles.  Next comes the story of seven brothers who cannot get along and you probably guessed what happens.  Solving their problems requires using the important values of the seven principles of Kwanzaa such as purpose, creativity and faith.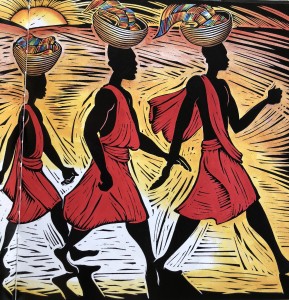 Aside from a wonderfully told story, the book has gorgeous woodcut-style illustrations by artist, Daniel Minter.  This is a story you'll want to read over and over again, not just at the winter holiday times, but throughout the year.
A Kente Cloth Craft
When you've finished the story, perhaps you'd like to color your own kente cloth and make a small drum.  You can find complete instructions in the freebies listed here.  Recycle a coffee can or an oatmeal container and you can make your own kente cloth-style drum.
And please stay tuned to this blog as our next post is from an expert on kente cloth and his story is just amazing.
Links And Resources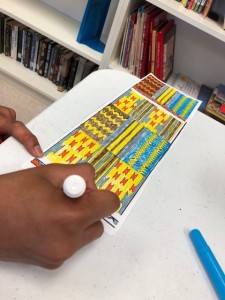 Make Your Won African Drum Craft – Freebie From DARIA's TPT store https://www.teacherspayteachers.com/Product/Make-Your-Own-African-Drum-Craft-3507618
Color A Kente Cloth Pattern – Freebie From DARIA's TPT store – https://www.teacherspayteachers.com/Product/Kente-Cloth-For-A-Drum-Craft-Coloring-Page-4248662
Angela Shelf Medearis Website – She's a Chef, Author and Cultural Historian! http://www.medearis.com/