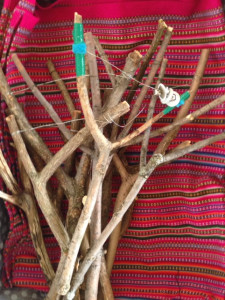 Autumn is such a great time to take a nature walk with your child!  Maybe you have a wooded backyard or a park nearby?  Or perhaps there is a natural area near your home where you can enjoy the changing seasons.
As you take a walk in nature, look for any stick or small branch that's formed in the shape of a "Y".   If you find one, you can take it home and make a wonderful little musical instrument that actually dates back to ancient Egypt.
What Is A Sistrum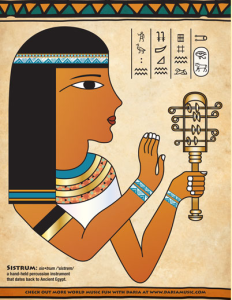 Sistrums are rattles that are found all over the world.  This clever little percussion instrument starts with some sort of forked object and then has a string or wire running between the two forks. On the strings or wires are objects that rattle and clank, making a lovely noise when shook back and forth.  In ancient Egypt, sistrums was used as part of the Pharaoh's court and can even be seen pictured in hieroglyphics!
Supplies
Small stick or branch
Sand paper (optional)
Sturdy twine or floral wire
Colorful yarn
Noise-making Objects – buttons, beads, jingles, paper clips,
Recycled noise-making objects – soda tabs, bottle caps, compressed bottle tops (our next post will show you how to make and use these safely to avoid sharp edges).
Start with the Stick!
Once you've found a sturdy stick or branch that's shaped like the letter "Y", you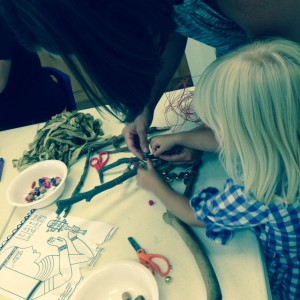 might want to take a bit of sandpaper and sand down any rough edges.  Then take the sturdy twine or floral wire and secure it to one side of the "Y".  Now add any of rattling objects and hold the wire in place without wrapping it on the other side.  Check to see if you like the sound it creates.  If you do, then wrap the wire or twine securely in place.  If not, experiment with adding or removing objects to get the sound you like.
Here's a hint, less objects often make a more pleasing sound!
Add extra strings of noise-makers if you like.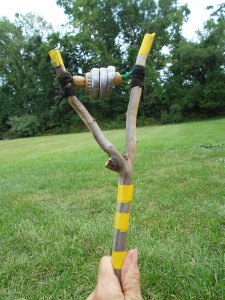 Making It Unique
After creating the noise-making part of the rattle, you may wish to decorate the handle or the sides with colorful yarn, woven bands, electrical tape or even painting or adding other decorations. This is a very open-ended project and you can be very creative with it!
Learn About The History Of The Sistrum
If you want to tie this project into a study of world cultures, you can check out the Ancient Instruments of the Middle East kids music mini-course.  Or simply have fun with the Egyptian coloring page.  Links and other resources are below.  Happy crafting and music-making!
Links and Resources
Free Coloring Page – Egyptian Sistrum  https://www.teacherspayteachers.com/Product/Color-An-Ancient-Egyptian-Rattle-The-Sistrum-2166721
Ancient Instruments of the Middle East  kids music mini-course https://www.teacherspayteachers.com/Product/Ancient-Instruments-From-The-Middle-East-Mini-Lesson-2127995
Free Doumbek (Middle Eastern Drum) Poster and Coloring Page https://www.teacherspayteachers.com/Product/Middle-Eastern-Drums-Doumbek-Background-Coloring-Page-2049118