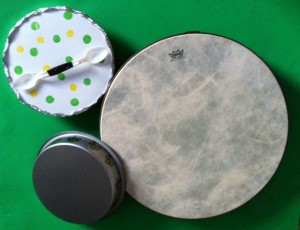 St. Patrick's Day is on the way!
Holidays are a wonderful time to explore both music and world cultures with your young child. Here's a super-easy kids drum craft for St. Patrick's Day – a drum that originally was a farm sieve for separating grain!  A kid's size bodhran (pronounced bow-ran) can be easily made from a pie tin or a metal take-out container. And definitely make the "tipper", too. It's a special kind of drum beater that is tapped back and forth and it great for teaching motor skills to kids!  Step-by-step directions can be found in the tutorial below from the TPT website.
What do the classic Irish symbols mean? Naturally, you'll recognize shamrocks as symbols of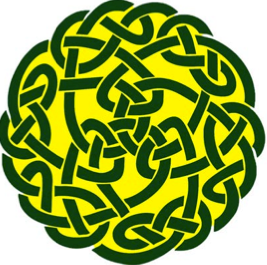 good luck. The Celtic Cross often represents religion and spirituality. A harp is often pictured because it is the national instrument of Ireland and the Claddagh (two hands joined by a crowned heart) is a beautiful symbol that represents the bonds of friendship, love and loyalty.
Wondering what a bodhran looks or sounds like? Watch these three young boys showing off their formidable drumming and Irish dancing skills. Plus, feel free to check out our round-up of Irish music-related crafts and posts for kids, listed below.
Links and Resources
MYO Bodhran and Tipper Tutorial: https://www.teacherspayteachers.com/Product/Irish-Drum-Make-and-Play-Your-Own-Bodhran-and-Tipper-2410657
Whistle a Merry Tune – With A Tin Whistle http://www.tinytappingtoes.com/early-learning-with-music/whistle-a-merry-tune-with-a-tin-whistle/
Morris Dancing Bells For Kids
http://www.tinytappingtoes.com/early-learning-with-music/easy-morris-dancing-bells-for-children/
Easy Introduction to 10 Irish Instruments
https://makingmulticulturalmusic.wordpress.com/2014/03/11/an-easy-introduction-to-irish-instruments/