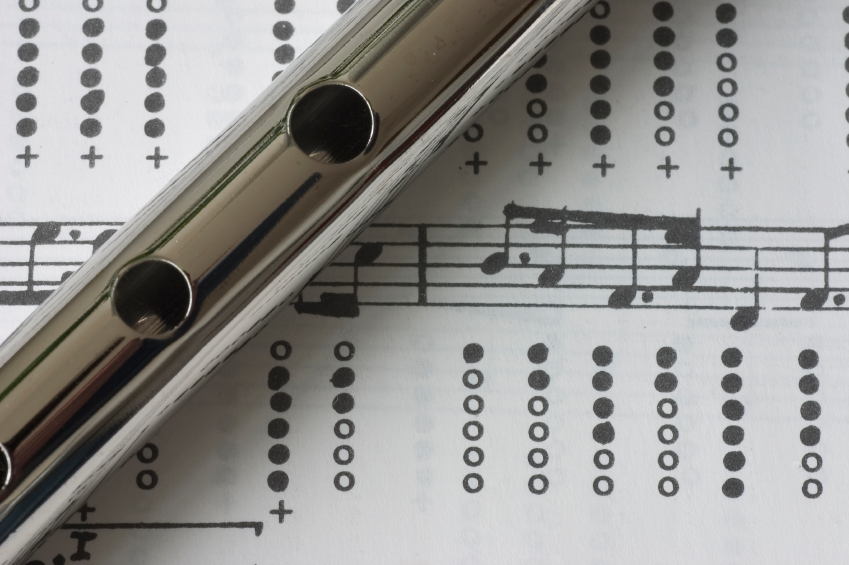 It's wonderful when a "first instrument" is so simple that a child can begin playing melodies and making music right away!  For just this reason, the tin whistle makes a great wind instrument to share with a child – or learn along with your child.  Even adults who consider themselves "musically challenged" can surprise themselves with what they can accomplish on this basic instrument.
In other words, if you can read a simple chart and place your fingers over the holes of a tin whistle, then you can play this instrument.  And, with a little bit of practice, it can sound great!
A Whistle With Many Names
Also known as a penny whistle or an Irish whistle, the tin whistle has a plastic or wooden mouthpiece; called a fipple, and a metal tube for the body.  Although they are made in all major keys, the most popular tin whistles are in the key of D and C.  Best of all, the fingerings used to play any tin whistle are similar to those used on the clarinet, flute and saxophone, so exploring this instrument can be a wonderful "headstart" for any child who might continue on with other wind instruments in the future.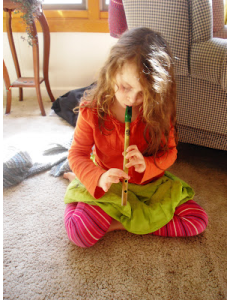 How To Hold A Tin Whistle
Here are a few tips for playing the tin whistle.  First, hold the whistle at a 45 degree angle, facing downward and away from you.  If you're right-handed, put that hand on the bottom and use your left hand on the top.  If you're a lefty, reverse that order. Thumbs hold the whistle from below and you cover the six holes with your fingertips.
Now…blow!
With the mouthpiece between your lips (not between your teeth), give a steady breath of air.  You'll know if you've got the right technique immediately because if you blow too softly, you'll hear an airy or all-too-quiet note.  If you blow too forcefully, you'll hear a shrill pitch or a squeak. Some musicians recommend that you blow as if you were saying the word "toooooo!"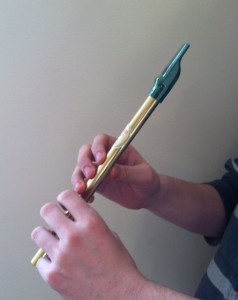 Let Your Fingers Do The Walking!
Once you've found the right way to blow a note, begin removing your fingers starting at the bottom and going to the top (until they all are uncovered).  You'll hear the difference in the sound and you can begin to play these notes to form your own melodies.
And, then?

From there, you can jam with your tin whistle or learn to play specific melodies.  You can try some advanced techniques like blowing a bit harder and getting a second octave (a set of higher notes) out of your tin whistle.  You can try different whistles in different keys or look for books that share your favorite songs or traditional Irish music which is perfectly suited to this simple folk instrument.
————————————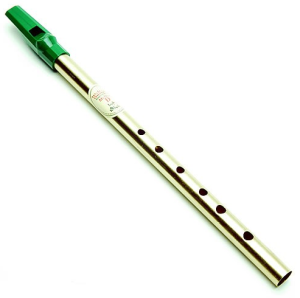 Above photo of a young girl exploring the tin whistle is courtesy of from a blog written by an amazing percussive dance teaching artist named Malke Rosenfeld (www.malkerosenfeld.com).   You can read the full post here:
http://mathinyourfeet.blogspot.com/2012/03/all-in-good-time.html
Irish Music For Kids – Resource Round-up
MYO Bodhran and Tipper tutorial: https://www.teacherspayteachers.com/Product/Irish-Drum-Make-and-Play-Your-Own-Bodhran-and-Tipper-2410657
Whistle a Merry Tune – With A Tin Whistle http://www.tinytappingtoes.com/early-learning-with-music/whistle-a-merry-tune-with-a-tin-whistle/
Morris Dancing Bells For Kids http://www.tinytappingtoes.com/early-learning-with-music/easy-morris-dancing-bells-for-children/
Easy Introduction to 10 Irish Instruments https://makingmulticulturalmusic.wordpress.com/2014/03/11/an-easy-introduction-to-irish-instruments/