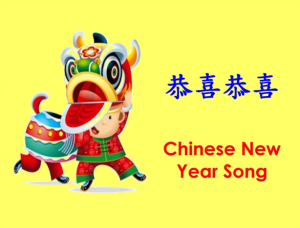 The phrase Gong Xi Gong Xi resounds everywhere during Chinese New Year. In fact, one translation of the New Years song explains:
(In) Every big street (and) little alley
The first sentence (we) say
When (we) see each other)

Must be" "Congratulations! Congratulations!"
Congratulations! Congratulations!
Congratulations to you!
Since it is so popular, some may think it's a traditional song or folksong, but it was written by a popular Chinese composer, Chen Gexin, with the original title: Wishing You Prosperity and Happiness.  The literal meaning of "Gong Xi" is "congratulations". Written by Chen Gexin on the occasion of China's liberation after the Sino-Japanese war in 1945, the lyrics use the most popular New Year's phrase and talk about the coming of Spring, so the song quickly became a favorite during Chinese New Year celebrations.
Here's a version that shows the Chinese characters and gives tips on pronouncing the lyrics to the song:
Here's a fun bilingual version of a different Chinese New Years Song with lyrics in Chinese and English. Even though it's a different song, you can hear the same chorus of Gong Xi Gong Xi, that rings out everywhere during this beautiful and happy celebration.
Links and Resources
Gong Xi Gong Xi- About The Song Plus Lyrics https://www.teacherspayteachers.com/Product/A-Chinese-New-year-Song-Gong-Xi-Gong-Xi-3629545
Gong Xi Gong Xi – Free Lyric Sheet (Pinyin and English)
https://www.teacherspayteachers.com/Product/Gong-Xi-Gong-Xi-Free-Lyric-Sheet-3629553
Chinese New Year Astrology Chart – Find Your Birth Year Here! https://www.teacherspayteachers.com/Product/Chinese-Astrology-Chart-What-Lunar-Year-Is-It-2377484b
Make Your Own Chinese Gong – https://www.teacherspayteachers.com/Product/Make-Your-Own-Chinese-Gong-From-Recycled-Materials-486935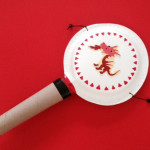 Make a Bolang Gu – Monkey Drum https://www.teacherspayteachers.com/Product/Monkey-Drum-Chinese-New-Year-Drum-Craft-1748044
Color an Erhu – A Two-Stringed Chinese Violin https://www.teacherspayteachers.com/Product/The-Erhu-Chinese-Violin-Instruments-From-Around-The-World-1037355