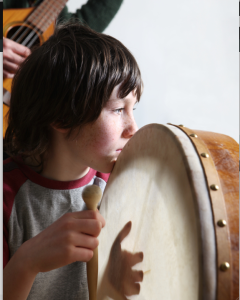 Every culture has it's own favorite types of drums.
In the Celtic tradition of Ireland, the bodhrán (pronounced "bow-ron") is a drum that seems to have evolved from the tambourine.  Originally made from farm implements such as a sieve to separate grain, it's generally 10 – 26" inches across and is played with a small wooden stick called a "tipper" (or cipín, in the Celtic language).
Whether you attempt to create a realistic bodhrán and tipper or just want to create an Irish-style drum, this easy craft makes a great introduction to Irish folk music.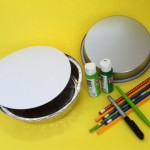 Gather Your Supplies
To create your homemade bodhrán, find a used pie tin or recycled take-out containers.  Circular metal containers  press-on tops work perfectly for this craft.  In addition, you'll need materials for decorating the drum and a pencil or two plastic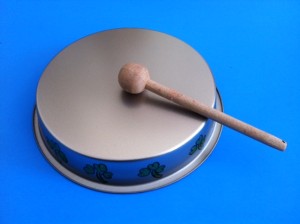 spoons to serve as your tipper plus a bit of tape.
It you're using a pie tin, you can decorate the sides or the top and you're ready to play.  If you're using take-out containers, decorate the blank side of the top circle with any kind of theme you like.  Since we're writing this close to St. Patrick's Day, we've chosen to decorate with shamrocks.
Make A Plastic Spoon Tipper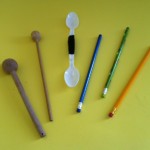 To make a "tipper" for your drum, tape together two recycled plastic spoons.  If you don't have any spoons handy, you can use an unsharpened pencil or a similar item like a chopstick or small thin piece of wood.
Time To Play!
Everyone loves to play on a drum.  If you have a simple stick as the beater, tap out a rhythm along with any of your favorite songs or discover some new Irish music to accompany.
If you've made a tipper, hold it in your hand between your thumb and first finger.
Tap on the drum with one side of it.  Then tap in the other side.  Practice tapping right, left, right, left until you get the hang of it.
Once you've mastered the back and forth tapping of the tipper, try picking up speed. You'll be amazed at what some musicians can do with this drum after they've practiced a bit.
Below is a short video showing basic bodhran technique for kids as well as a Youtube video of a master musician who can really rock out on this awesome Irish instrument.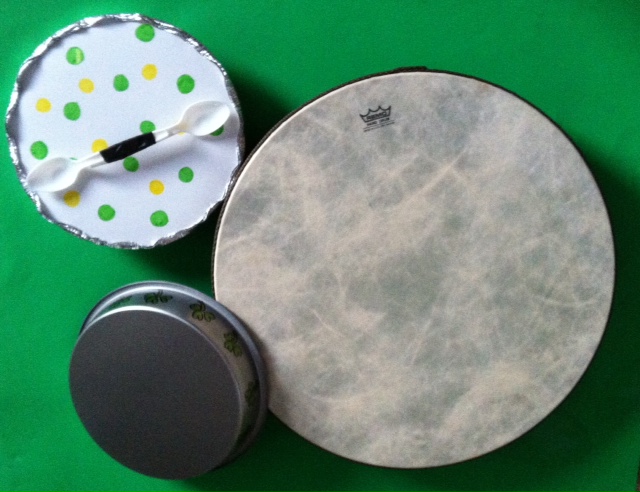 Homemade Bodhrán Musical Fun
Homemade Bodhran Fun- Click Here To Learn The Basic Techniques
Traditional Celtic Bodhrán – One Amazing Instrumentalist!

Links and Resources
Make Your Own Bodhran -  tutorial from TPT https://www.teacherspayteachers.com/Product/Irish-Drum-Make-and-Play-Your-Own-Bodhran-and-Tipper-2410657