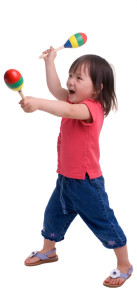 Cinco de Mayo is a wonderful time to learn more about Mexican history and culture. Making and playing simple instruments from Mexico is great fun for even the youngest child. Here are three easy music crafts that will let your little one try their hand at joining in the musical fun of this special holiday!
Make Some Maracas!
If you have two small water bottles and two toilet paper rolls, plus a bit of filling and tape, you can make a sturdy pair of great-sounding maracas.  Basically, maracas are two rattles held by the handles and played with both hands. Imagine the fun you can have with music and with music and movement with these!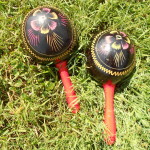 Professional maracas have different sounds in each of the containers and you can try that as well. You can fill your recycled instrument with combinations like beans and rice, paper clips and erasers or smaller and larger dried pasta pieces. That way the left and right maraca will make different sounds when shaken and you can create even more the rhythms with the pair!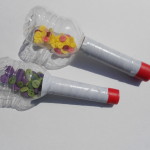 Need a full tutorial, with different playing suggestions? You can find one here: https://www.teacherspayteachers.com/Product/Latin-American-Intruments-Make-Your-Own-Maracas-1428029
Be A Guiro Hero!
Even if you don't recognize the word "guiro", you'll know the sound right away! It's the instrument that makes the "b-r-r-r-r-r-r" sound often heard in Latin American and Caribbean music. And it's really fun for kids to play!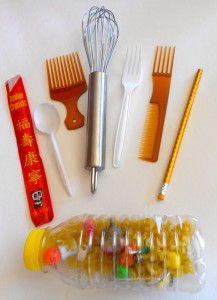 The sound is achieved by rubbing a stick, a scraper or a rasp over a series of ridges – and any plastic water bottle with firm ridges makes a fantastic guiro. Filling the water bottle with colorful shredded paper, confetti or similar items makes it even more fun to play. When I do this project with kids or classes, I like to use an unsharpened pencil attached to the bottle with colorful yarn as my scraper, but there are lots of other items you can use as well and each one produces a unique sound. Try whisks, hair picks, chopsticks or even plastic spoons, forks, or sporks for percussion play!
Click, Clack…Castanets!
This is another creative project for discovering rhythms or developing fine motor skills.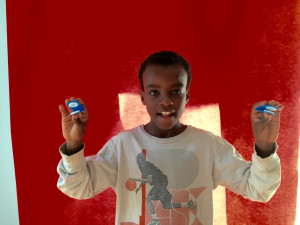 Castanets originally came from the European region of Spain and Portugal and some historians believe they were actually made from tapping together walnut shells before they were crafted out of wood.
Our recycled project doesn't include nuts or carved wood. We create fun little workable castanets out of sturdy paper and buttons or various sizes. You make them in pairs and – you guessed it – each different set of buttons makes different sounds.
Playing suggestions? Get the hang of tapping them together and separately. Then play along to your favorite songs or try singing and tapping at the same time. Often played as part of the flamenco music tradition heard in Spain and in Mexico, you'll be amazed at how a talented castanet player can use this tiny instrument as part of a breath-taking performance.
Here's an example of a well-known flamenco dancer and castanet player named La Emi from Santa Fe, New Mexico.
Is Cinco de Mayo Mexican Independence Day (Spoiler Alert – No!)
By the way, do you know what the 5th of May actually celebrates?  If you don't you can check out this history freebie from my TPT Store here: https://www.teacherspayteachers.com/Product/What-is-Cinco-De-Mayo-2514584
Links And Resources
Free Mariachi Guitar Coloring Page
https://www.teacherspayteachers.com/Product/Mariachi-Guitar-Coloring-Page-2511636
Hear or Color a Guiro   http://www.dariamusic.com/guiro.php
Make Your Own Guiro from TPT
https://www.teacherspayteachers.com/Product/Make-Your-Own-Latin-American-Guiro-1230266
Cinco De Mayo Music Crafts E-Book From TeachersPayTeachers
https://www.teacherspayteachers.com/Product/Cinco-De-Mayo-Music-Crafts-2507025
10 Musical Crafts For Exploring Hispanic Heritage
https://www.teacherspayteachers.com/Product/Celebrate-Hispanic-Heritage-Musical-Craft-And-Coloring-E-Book-1427919