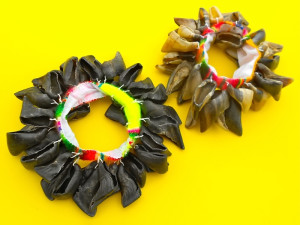 All around the world, people make music. But because they all have different materials in their environment, they create musical instruments that are unique to each continent and culture.
One of my favorite unusual instruments to share are chapchas. Most often seen in the Andean countries of South America, this percussion instrument is made from the toe nails of goats, boiled and then strung onto a cloth circle or bracelet and rattled together to create the sound.  What does it sound like? Most people think it sounds like a beautiful rainstick or a gentle rattle.
You can hear them right here:
You can also hear how chapchas sound being played with other instruments in this video of a song sung in Quechua, the language used in rural Peru that dates back to the Incan empire. Just listen for the instrument that is not a flute or a drum, but sounds like a rainstick or a rattle.
Why Use The Toenails Of Goats?
Why use the toenails of goats as a musical instrument? The answer is simple. Many communities in the rural Andes are located at an altitude above the tree line so it is difficult to find things like wood, seeds or branches to create many common instruments. And most of these communities are herders, so the clipped toenails would be readily available every spring for fashioning an instrument like the chapchas.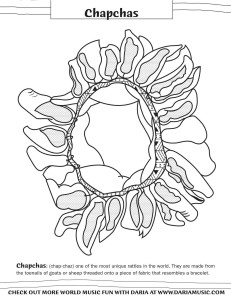 Color Your Own Chapchas
Want to take a closer look at chapchas? You can color your own goat toe-nail rattle in this TPT freebie here: https://www.teacherspayteachers.com/Product/Color-The-Chapchas-An-Instrument-from-The-Andes-650050
Enjoy More Posts About Hispanic Heritage Month from Multicultural Kid Bloggers!
We are so excited for our eighth annual Hispanic Heritage Month series! Now through October 15, you'll find great resources to share Hispanic Heritage with kids, plus you can link up your own posts on Hispanic Heritage!
Find even more ideas on our Latin America Pinterest board:
September 16
Pura Vida Moms on Multicultural Kid Blogs: Celebrating Latino Culture
September 17
Discovering the World Through My Son's Eyes: Julia de Burgos, Puerto Rico's Most Famous Latina Poet
September 18
Hispanic Mama: Raising Kids to Be Proud of Their Latino Heritage
September 19
Spanish Playground: Spanish Tongue Twisters for Kids
September 20
MommyMaestra: Tito Puente Lesson Plans, Coloring Pages, Crafts, Activities and More
September 23
Kids Spanish Book Club: Five Bilingual Picture Books
September 24
Embracing Diversity: 21 Inspirational Quotes by American Latinos To Uplift & Empower
September 25
September 26
Little Nómadas: Quesillo Venezolano
September 27
September 30
October 1
October 2
October 3
October 4
October 7
October 8
October 9
October 10
October 11
October 14
October 15
Don't miss all of the great posts from previous years as well: 2012, 2013, 2014, 2015, 2016, 2017, and 2018.