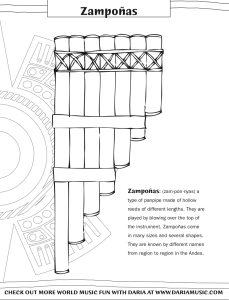 Who doesn't love to color?
And did you know that the guitar traces it's roots to Spain? And in South American, there's an instrument made from the actual shell of an armadillo? Coloring pages can be a great way to get creative as well as dive into any study or exploration of music. Since September 15 – October 15th is Hispanic Heritage month, we wanted to share a few of our reader's favorite coloring freebies featuring instruments that come from the diversity of Hispanic cultures.
And if coloring isn't enough, check out the free E-book listed below where you can make crafty versions of 10 different instruments that also come from the Hispanic world. Castanets, cajitas or box drums, anyone?
Guitar
Color A Guitar – ONLINE  http://www.dariamusic.com/color_Guitar.php
Free Printable From TeachersPayTeachers http://www.teacherspayteachers.com/Product/Guitar-Coloring-Page-649967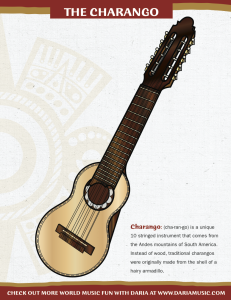 Charango (Small Stringed Instrument Made From An Armadillo Shell) 
Free Printable From DARIA's website
http://www.dariamusic.com/docs/CharangoColoringPage.pdf
Cajón (A Box Drum From Afro-Peruvian Culture)
Color A Cajon – ONLINE
http://www.dariamusic.com/color_Cajon.php
Chapchas (A Rattle Made From Goat's Toenails) 
Free Printable From TeachersPayTeachers  http://www.teacherspayteachers.com/Product/Color-The-Chapchas-An-Instrument-from-The-Andes-650050
Bombo ( A Large South American Drum)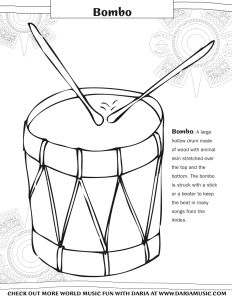 Free Printable From TeachersPayTeachers http://www.teacherspayteachers.com/Product/Color-A-Bombo-A-Drum-From-The-Andes-650642
Guiro
Color A Guiro – ONLINE http://www.dariamusic.com/color_Guiro.php
Zampoñas (Panpipes From The Andes) 
Free Printable From TeachersPayTeachers http://www.teacherspayteachers.com/Product/Color-the-Zamponas-Panpipes-From-The-Andes-65060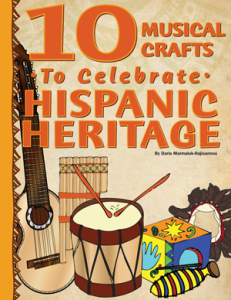 Resources And Links
10 Musical Crafts To Celebrate Hispanic Heritage -Free Until October 31st on DARIA's website:
http://www.dariamusic.com/monthly_song.php
Available Anytime From TeachersPayTeachers ($8.99)
http://www.teacherspayteachers.com/Product/Celebrate-Hispanic-Heritage-Musical-Craft-And-Coloring-E-Book-1427919
Additional Coloring Pages With Musical Instruments From All Over the World http://www.dariamusic.com/crafts.php