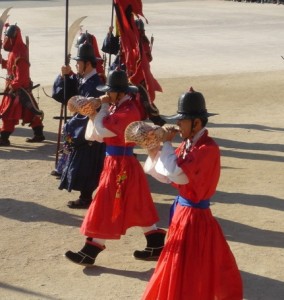 Did you know a seashell can be a musical instrument?
Years ago, I saw a picture of a conch shell used as a trumpet in an ancient Aztec drawing. As I've visited other counties, I've discovered that large shells have been used in many different ways in ancient and modern times, all over the world.
Here are just a few of the world music traditions that use sea shells as natural trumpets and horns.
MEXICO
In Aztec culture, the shell trumpet was very symbolic and often associated with the breath of life as well as the rhythms of the sea. Similarly, it was associated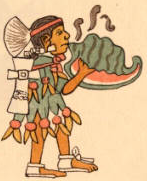 with the call to prayer, marking time during the day and night, rhythms of the moon, fertility and with Ehécatl – the Aztec God of the Wind.
Here is the first picture that piqued my curiosity. It is a musician called a "quiquizoani" playing the conch trumpet. Researchers found 7 different types of conch shell trumpets played in the ancient Aztec culture of Mexico. They also discovered that conch shell trumpets were used by the Aztec military in a manner similar to modern day bugles.
One of the best sites for information on Aztec instruments, including great pictures from important archeological sites is Mexicolore.com. You can find Mexico Lore's conch shell page here: 
http://www.mexicolore.co.uk/aztecs/music/conch-trumpet
KOREA
A nagak is a large elegant seashell used as a trumpet, mainly in military parades. You can see it above in a photo of a procession at the royal place in Seoul, Korea. Also called the na, sora or godong, it is made from the shell of a sea snail that is sometimes called Triton's Trumpet.
JAPAN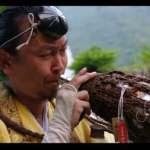 In Japan, large conch shells called Horagai (法螺貝) (or jinkai (陣貝) have been used as trumpets for many centuries. Special schools still teach students to play the traditional music associated with the conch.
In ancient times, conch trumpets were used by certain sects of Buddhist monks to signal their movements across mountains or to accompany religious chanting. Unlike shell trumpets from other parts of the world, Japanese shell trumpets are fitted with mouthpieces of bamboo or bronze that allow them to create several different notes rather than just one single trumpet blast. Samurai used the war shell; known as the jinkai, as a communication device during battles. Playing different combination of notes would signal warriors to attack, withdraw, or change strategies during battle. Here is an example of the Japanese shell trumpet where you can hear the different notes being played:
PUEBLO CULTURE (USA)
Although the location is many days travel from the ocean, conch shell trumpets were found in the burial chambers of recently discovered (Native American) Pueblo ruins in New Mexico. You can read about what else was discovered there, here: https://makingmulticulturalmusic.wordpress.com/2017/02/22/conch-trumpets-flutes-and-turquoise-beads-treasured-items-of-an-ancient-culture/
FLORIDA (USA)
Not to be left out, there is a conch shell trumpet contest every year in the Florida Keys. Adults and kids participate and try to make beautiful music – or at least long sustained blasts – from their own gorgeous shells.
You can check out some of the champion "conch honkers" from the 50th anniversary contest in Key West, here: