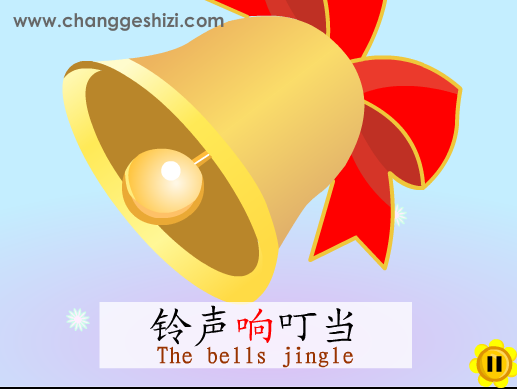 Have you ever heard the song, Jingle Bells in (Mandarin) Chinese? It's irresistible! And it's a perfect way to introduce your child to a beautiful new language as part of their musical play and exploration!
I learned this song from a wonderful Mommy blogger named Lina Dickson who is actively "bringing up baby, bilingually". Since the winter festivities are close at hand, it can be a perfect way of combining music, learning a new language and holiday fun.
Even if you don't attempt the whole song, the chorus is very easy to learn. Instead of Jingle Bells, it is:
(Pinyin) Dīng dīng dāng Dīng dīng dāng
(English Translation) Ding ding dang, Ding ding dang,
(Pinyin) Líng'ér xiǎng dīng dāng
(English Translation) The bells jingle

(Pinyin) wǒ men huá xuě duo kuài lè
(English Translation) We have lots of fun sledding
(English Translation) Riding of the sleigh
(Pinyin) wǒ men zuò zài xuě qāio shàng hei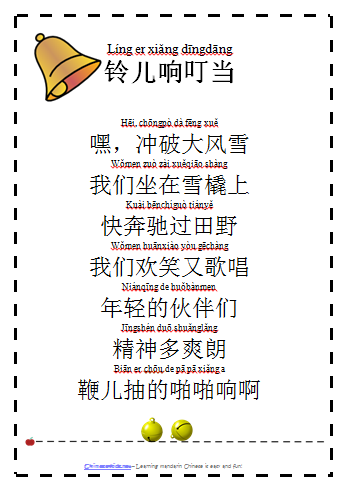 Check out the video animation below or head over to Lina's Best4Baby site to see a version that has the perfect word by word translation. Lina's site also has a pdf teaching the complete lyrics in Chinese through the actual Chinese characters, through pinyin and the English translation. If you aren't familiar with pinyin, it is a system developed to write out how Chinese characters or words are pronounced including the correct inflection to use.
http://www.best4future.com/blog/chinese-childrens-song-jingle-bells
Jingle Bells Lyrics in Chinese Characters, Pinyin and English Translation form Best4Future Website
http://www.best4future.com/blog/Songs/jinglebell.pdf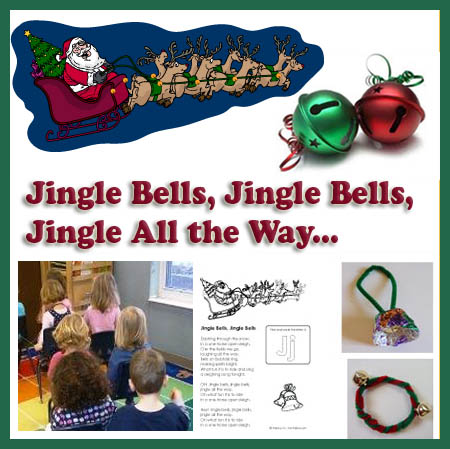 Want to make some jingle bells to jingle along with the song – no matter what language you're enjoying it in? My monthly song page has a free craft booklet sharing 4 different ways to create homemade jingle instruments from recycled materials.
Stop on over, get your copy and you can … jingle all the way!
http://www.dariamusic.com/monthly_song.php
[youtube=http://www.youtube.com/watch?v=iAwC0GorjCs&w=500&h=375]