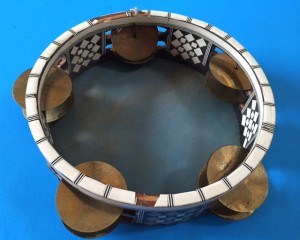 If you've ever made a homemade tambourine or sistrum, you've probably wanted to use bangles like those seen on traditional middle eastern drums or instruments.  Technically, these round thin mini-cymbals are called zils.  You can see some lovely large zils on this antique tambourine from the Middle East.
If you're crafting an instrument that uses these bangles, it's easy to make a simple version of zils out of recycled bottle caps using a few tools that are handy around any home or garage.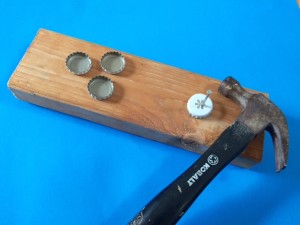 What You Need
Metal bottle caps
Piece of Wood
Hammer
Large nail with a head
Safety Goggles
Safety First
Although this is a reasonably safe and easy project, it's always a good idea to use caution.  Wearing safety goggles means that your eyes and face are protected if you accidentally hit the cap too hard and it bounces off the wooden work surface. In general, a good tip for this project is to use the hammer slowly and gently, tapping repeatedly until you get the desired results.
Set Up A Work Area
Set the piece of wood down either on the floor, the ground or a sturdy table.  Place the metal bottle cap (cap-side-up) and then position the large nail above it, directly in the center.  Gently tap until the nail has pierced the cap and reached down into the wood.  This creates the hole that will allow you to thread it onto whatever you are making.
Next, With cap-side-down, next gently strike all the edges of the bottle cap until it slowly flattens.  This can take 15, 20 or more gentle taps with the hammer.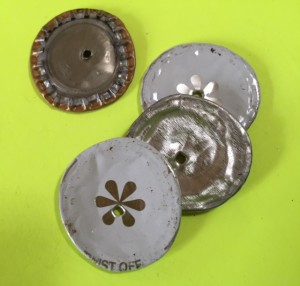 Next, turn the bottle cap over.  Continue to tap the outer edges and the inner circle until all the sharp edges are flattened and pressed into the cap's surface.  Although some recycled projects use the bottle caps in their original form – such as the wooden sistrum from Africa seen below – flattening the bangles makes them safer to handle and use in any project.
If you're doing this project with very small children, you might wish to create the bangles in advance and focus more on how the children can string the bangles plus other rattling objects onto their craft instrument.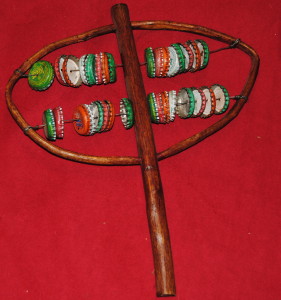 Wondering what else you could add to a tambourine or sistrum project?  In addition to bottle cap zils, you can add paper clips, buttons, jingles, beads or pull tabs from soda cans.  Remember, while you're reducing, reusing and recycling, you're also teaching kids to limit their use of resources but never limit their imagination or creativity!
And that's a win/win for everyone!
Links and Resources
Color An Ancient Egyptian Sistrum  https://www.teacherspayteachers.com/Product/Color-An-Ancient-Egyptian-Rattle-The-Sistrum-2166721
Ancient Instruments – Make Your Own Egyptian Sistrum https://www.teacherspayteachers.com/Product/Ancient-Instruments-Make-Your-Own-Egyptian-Sistrum-Rattle-1617163
Ancient Instruments From The Middle East, Kids Mini-Lesson https://www.teacherspayteachers.com/Product/Ancient-Instruments-From-The-Middle-East-Mini-Lesson-2127995