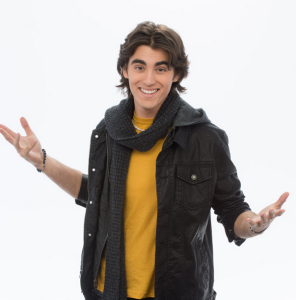 Although we don't watch a lot of t.v., our family has a soft spot in our hearts for any program with adorable animals, especially cute talking animals. So it was no wonder that several of my readers mentioned that a recent episode of "Dog With A Blog" featured the teen named Tyler playing the musical spoons, a topic that we've shared several times on Tiny Tapping Toes. And he did a terrific job!
But, if you look closer, he was using two connected spoons, like the ones you see below.  And that sure does make playing the spoons a lot easier. In fact, there's a big behind-the-scenes look at Dog With A Blog tonight (Thursday, September 24, 2015) and we really hope they share some of their musical spoon outtakes!
Are you intrigued by the spoons? Here's a quick run-down of tips for playing any kind of spoons you might find!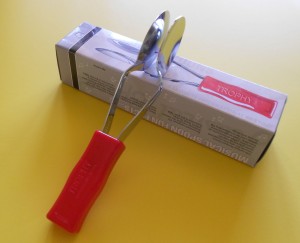 TWO CONNECTED SPOONS
Ok, this one is simple. You hold the spoon in one hand and tap either side on your knee and your opposite hand. Go back and forth until you create a beat! To get tricky, go back and forth between your hand and any other object, like your shoulder, someone else's shoulder, the chair you're sitting on, you get the picture, right?
In short, you're making a beat by tapping the connected spoons against your hand on one other surface. With a bit of practice, you can make this sound amazing!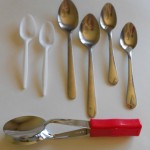 TWO UNCONNECTED SPOONS
This is the original way of playing the spoons and does take a bit of coordination. Check out our step-by-step post here and you'll also find how to make that cool "trill" or "b-r-r-r-r-r!" noise with your spoons".
http://www.tinytappingtoes.com/tag/how-to-play-the-spoons/
TAPPING SPOONS WITH TINY TOTS
Okay, the last two were rather tricky and required lots of motor skills to accomplish. You can also feel free to play the spoons with young children by using them like rhythm sticks. Tap them gently together to make a beat. Sit opposite your child and tap the spoons together, making a beat while singing a song or playing music. Have your child match your movements to make the beat, too!
It's a simple rhythm and music game with items that everyone has around their house. And; yes, you can use plastic spoons as well!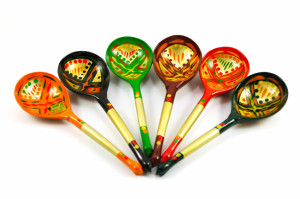 WOODEN SPOONS IN RUSSIA
It's probably not surprising that other cultures discovered these everyday items could be used for as musical fun.Russian musical spoons, known as lozhki (Ло́жки), are the beautifully carved and decorated wooden spoons famous in that region of the world.
If you'd like to check out that form of musical spoons including some truly sensational hand (and foot) work, check out this post and video from Making Multicultural Music, below.
SPOONING FOR VIDEOS!
Want to see musical spoons in action? Here's one American spoon video and one that features a Russian spoon expert.
Musical Spoons – American Style  http://multikidsmusicvids.com/?p=1519
Russian Musical Spoons   https://makingmulticulturalmusic.wordpress.com/tag/russian-spoons/