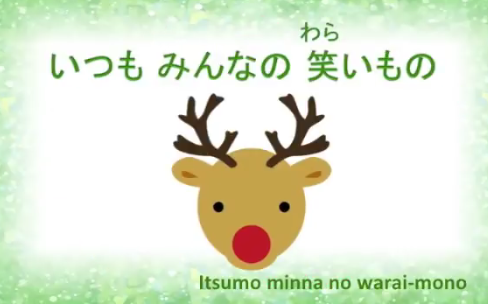 A Mommy-Blogger in the British Isles came up with the most wonderful idea for sharing cultures with her kids through music.  As Christmas approaches, Crystal (from Crystal's Tiny Treasures) vowed to learn one new seasonal  song; in a new language, with her kids each week.  She keeps the focus on fun and lets the kids get into the spirit as they laugh, sing and learn the new song pick.  What a great way to prepare for the holidays, learn a new language, celebrate diversity and encourage kids to be world citizens at the same time!
Since this super-mom blogger participates in a local Japanese holiday party, one of her first choices was learning Rudolf the Red Nosed Reindeer in Japanese.
Want to learn along with her?  Here's a videos with subtitles to prompt you  through the song.  Give it a try!  The video plus the lyrics below makes it really easy even if you don't speak one word in Japanese!
And here are the lyrics (in Japanese):
Makka na o-hana no tonakai-san wa

Itsumo minna no waraimono

Demo sono toshi no Kurisumasu no hi
Santa no o-ji-san wa iimashita
Kurai yomichi wa pikapika no
Omae no hana ga ni tatsu no sa

Itsumo naiteta tonakai-san wa
Koyoi koso wa to yorokobimashita
Will you be learning a new holiday song with your children or your classroom?
I'd love to hear about it here.  Drop me a line (dariamusic at yahoo dot com)  or leave a comment and it may be featuring in an upcoming post or appear on my next holiday children's album!
Want to check out the fun at Crystal's Tiny Treasures.  Here's a post about last year's party at her local Japanese society!
Crystal's Tiny Treasures
http://crystalstinytreasures.com/wordpress/japan-society-christmas-party/