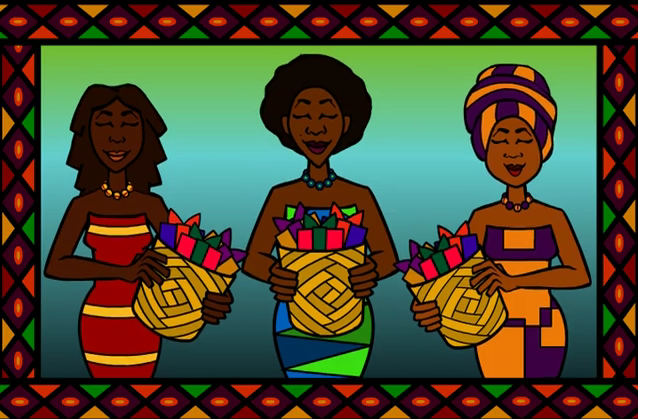 Mother's Day in the USA is fast approaching, but you probably already guessed that mothers, moms and mums as well as grandmoms are celebrated all over the globe.  In South Africa, Mother's Day is celebrated the 2nd Sunday in May and children honor their mothers with gifts, flowers and sweet gestures such as breakfast in bed or taking mom out to dinner.
Songs for moms can be found all over the world and this is one of our favorites. It's not a traditional Mother's Day song but it talks about the special bond between a mother and her child.  Here's the story behind the song.
Here Come Our Mother's Bringing Us Presents
In some of the small villages in South Africa where Zulu is spoken, moms often have their own garden or small farm. They work very hard growing good things for their family to eat. At harvest time, they collect what they've grown and stock it away for the year. But there's always a bit left over. So they take their produce to market and sell it.  And then they buy whatever else they need.  But there's always a bit left over.  With that little bit of extra money, the mother's think about what their children might love to have from town… a delicious fruit, a special sweet or something else that will delight their child.
On that day, the children are always very good. They do their chores without being told. Perhaps they sweep up their yards or help out someone who lives nearby. They make sure they don't squabble with their siblings. Then, when the kids finally see their moms coming toward home, they begin to sing this song, imagining what their mother's might have brought for them.
It's Interactive!
Like so many wonderful folksongs, this song is great for "remaking" with your family or classroom.  You can sing the song in exactly the same way,  but the items in the verses can change. Instead of apples and bananas, perhaps you'll see blueberries and cherries. Instead of cookies and sweet things, you might find marshmallows, granola bars or maybe even chocolate chip cookies!
Feel free to play with the song and make it your own!  And a very happy Mothers Day to all!
Links and Resources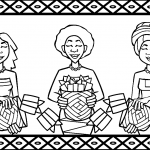 Free Lyric Sheet – Here's Come Our Mothers https://www.teacherspayteachers.com/Product/A-SONG-FOR-MOTHERS-DAY-Here-Come-Our-Mothers-501097
Here's Come Our Mothers From Itunes https://itunes.apple.com/us/album/i-have-a-dream/id49532398
Here's Come Our Mothers From Amazon mp3 https://amzn.com/B0013PLG40
Color the Mothers –  2 Free Coloring Pages From Video https://www.teacherspayteachers.com/Product/Mothers-Day-Coloring-Page-Traditional-Moms-From-South-Africa-2540830
A Mother's Day Song in Spanish – http://www.tinytappingtoes.com/classroom-music/a-mothers-day-song-in-spanish/