Need a last minute St. Patrick's Day craft?  You'll love to make and play this easy Irish drum. And learn a bit about it's history and culture as well.
To get your free copy, just head over to my TeachersPayTeachers store, where's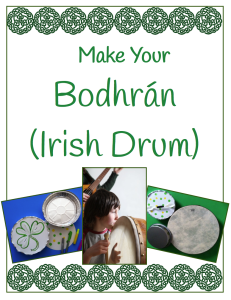 it's marked down to "0" until March 19th. And while you're there – would you kindly follow me on TPT to get monthly notices of what's new and other musicals freebies and goodies you might like. https://www.teacherspayteachers.com/Product/Irish-Drum-Make-and-Play-Your-Own-Bodhran-and-Tipper-2410657
Don't have time to get the tutorial?  Here's an older post that tells you all about the bodhrán (pronounced bow-ron) drum.
http://www.tinytappingtoes.com/uncategorized/make-your-own-bodhran-irish-drum/
Wishing you have a happy, healthy and green St. Patrick's Day!