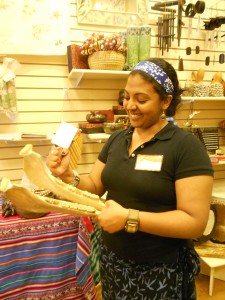 I've traveled the world to perform and I love to share really amazing world music instruments with my audiences when I play live.   The three most frequent questions I get are: "What is that?" "Where does it come from" and "Where can I find it for my child or my classroom?".
These questions are not surprising. People around the world make music in some really beautiful and unique ways. It's a great way to celebrate diversity or teach about world cultures.  And folk instruments are fascinating.  They generally come from natural or recycled materials,  like turning bamboo into Hawaiian rhythm sticks called pu'ili or using seed pods from the "ice cream tree" to make pacay rattles.  Bushel gourds turn into water drums and smaller gourds learn to dance as shekeres.  This is not just a fun sensory experience for a child but also a way to share creativity and encourage music-making as awesome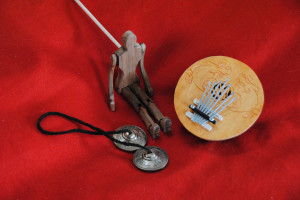 play!
But if you haven't just gotten off a plane from some remote location, how do you find these great instruments for your kids? Here are my best tips with an emphasis on places you can buy things that are fair trade.
SAFETY FIRST
Before we begin, I encourage any parent or teacher to think of safety first. Any
toy or instrument may have small parts – such as beads that might break off – so keep that in mind. I also encourage parents and teachers to play with their child musically, then keep the instruments in a special place. This usually keeps things from breaking and keeps smaller children safe from choking hazards.
WHAT ABOUT FAIR TRADE?

When you go to work, don't you want to be paid a fair or a great wage? Would you like to work all day then receive .24 for your labor? Heck, no!
I am a huge fan of fair trade.  Having lived in many third world countries I've seen awful working and living conditions and am thrilled to see many companies now that only offer fair trade products. I heartily encourage you to make that choice, whenever possible.
TEN THOUSAND VILLAGES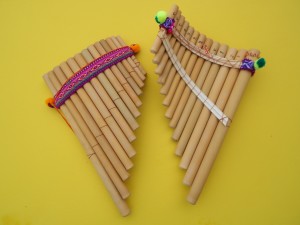 Ten Thousand Villages began as a fair trade endeavor, started by a Mennonite woman in the 1950's. It's now blossomed to a company with many retail stores across the USA and a brisk online business. Although Ten Thousand Villages does not exclusively sell musical instruments, they work with artisans in over 35 countries and have a beautiful selection of instruments from Asia, the Caribbean and Africa. My favorite items from their store are their panpipes (pictured here), kalimbas, African percussion, handbells, small gongs and beautiful singing bowls.
You can find their online store and list of locations, here: https://www.tenthousandvillages.com/
JAMTOWN
Exclusively a music retailer and wholesaler, Jam Town is based in Seattle and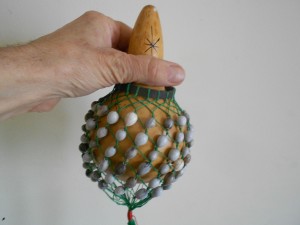 offers a wide variety of hand drums, box drums (cajón) as well as diverse hand percussion. What they offer varies so stop by their online site and see what is available or locate a store that offers their products near by.
Although their customer service really could use improvement, I wholeheartedly recommend the quality and sourcing of their instruments. Buying from Jam Town means offering meaningful support to an artisan in a third world country where few opportunities exist. Plus, their website has a great clearance page, too.
The Didj Shop
Although not certified fair trade, this online store and website promotes all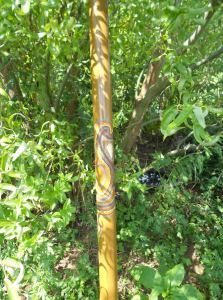 Indigenous Aboriginal artists and their creations. The website is filled with great info from various Aboriginal cultures. The website is set up so it allows a person who wishes to buy a didgeridoo, the chance to hear it as an mp3 and often see an image and profile of the artisan who created it.
https://www.didjshop.com
The Didgeridoo Store
Although not certified fair trade, this store has some great low-priced didgeridoos and sells packages where a beginner can get a didg plus an instruction video.  They also sell Australian clapsticks that are beautifully decorated and other percussion items such as Indian ankle bells.  You can see those here: https://www.didgeridoo.store/percussion
This is a store that's not certified fair trade, but they have been very helpful to me.  I've purchased large drums, panpipes, tinya drums and goat toe nail rattles from them. Their customer service is outstanding and it is my hope that they have the same care for the artisans who create their instruments.
https://www.boliviamall.com/en/musical-instruments.html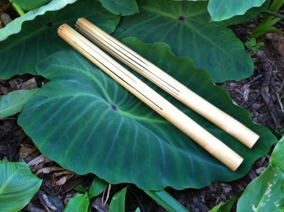 HAWAIIAN INSTRUMENTS

Here's an excellent site for learning about Hawaiian, Hula and South Pacific instruments. You can buy many of the basics such as these pu'ili rhythm sticks in their shop, here:  https://www.nakaniohula.com/
Is That Everything?
No way!  I'll keep adding to this article but I encourage you to subscribe to this blog to see what's new. And let me know if there's a shop or a vendor you've found that create beautiful instruments. I'd love to list them here or even do a special post on what they do.
Wishing you a happy, musical day!