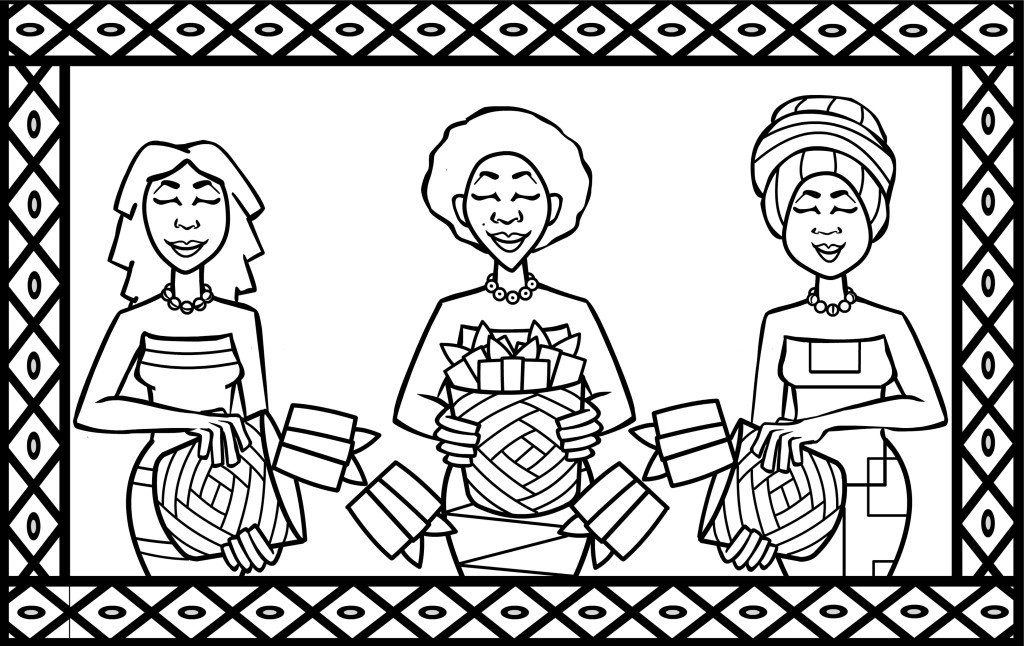 A while back I recorded a folksong that I learned from Ladysmith Black Mambazo – the amazing vocal group from South Africa.  "Here Come Our Mothers, Bringing Us Presents" is a beautiful mixture of  English and Zulu lyrics and tells the story of a group of mothers returning home to their children. Although it's not a traditional "Mother's Day" song, it has been used in many multicultural celebrations of moms around the globe.
Here's the video with a big shout out to Philadelphia-based artist (and mom), Brittney Knox who created both the artwork and animation here.
The Story Behind The Song 
In one small village in South Africa, the women worked very hard all year long to grow wonderful things in their gardens.  When the harvest was done and the crops were stored, they had some extra that they took to town to sell.
After they sold what was extra from their bountiful harvest, they bought the supplies they needed and had a little money left over.  With that money, they purchased treats and special things to bring home to their children.
On that day – at home – the children were busy being very good.  Perhaps they were sweeping the yard, or cleaning up.  They were taking good care of their siblings and not fighting with them – not one bit!   And since they waited all day for their mothers to return, they were very excited when they saw them returning to the village.
The song:  "Here Come Our Mothers, Bringing Us Presents" is what the children would sing as they imagined what was inside the baskets and bundles coming home as treats.  It was a wonderful way to celebrate their mother's return.
Although most moms get presents on Mother's Day and the moms in this folk tune bring the presents, the concept behind the song is universal.  Mothers have a special place in their children's hearts – both when they are young and forever!
Here Come Our Mother's Free Coloring Page: https://www.teacherspayteachers.com/Product/Mothers-Day-Coloring-Page-Traditional-Moms-From-South-Africa-2540830