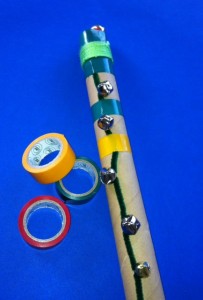 One of the most wonderful things about making music with young children is that it easily becomes part of an active day.  Who can resist making a parade or dancing around the house or the classroom when they are carrying a marching jingle stick?  Best of all, the materials needed for this craft are often trashed (extra ribbon, tape, cardboard wrapping tubes, stray jingle bells) so this craft encourages you to upcycle, exercise and make music all at the same time.  What a great way to begin the holiday fun!
Make Your Own Jingle Stick
Here are the supplies to assemble:
A jingle stick – look for a cardboard tube from wrapping paper, 3 foot ruler or large stick
1 (or more) pipecleaners
6 – 10 jingles per pipecleaner
Colorful electrical tape or duct tape
Optional: Paint, stickers, yarn or duct tape, for decoration.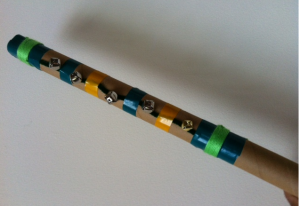 Begin by stringing any number of jingles onto a pipecleaner.  Use electrical tape to fasten the pipecleaner into place on the stick.  It helps to fasten the pipecleaners to the stick between the jingles as well.  If you like, make several pipecleaners strung with bells to add to different parts of your stick.
Once the jingles are in place, decorate the rest of the marching stick.  Use paint, more tape, colorful ribbon, yarn or stickers to make it unique and wonderful.
Time To Play!
Other then using the jingle stick to lead a parade, there are lots of ways to get creative with your new instrument.
Sing any of your favorite holiday songs along to a beat created by your marching jingle stick.
Try tapping the stick on the floor while marching and use that sound as part of the rhythm being created.
Use marching jingle sticks as part of a holiday music presentation.
Try playing the jingle stick at a particular part of the song (like the chorus) or when you hear a particular word in a holiday song.  For instance, a class can jingle the bells only when you hear the word "jingle" in the song "jingle bells".
If you like, try it along to this version of Jingle Bells which shares lots of different ways to say "Happy Holidays" in different countries around the globe.
Resources
Jingle Anklets –  http://www.dariamusic.com/docs/jinglebells.pdf
4 Easy Jingle Bells Instruments For Holiday Fun  – Craft Booklet from TeachersPayTeachers http://www.teacherspayteachers.com/Product/4-JINGLE-BELLS-CRAFT-ACTIVITIES-940926
4 Easy Jingle Bells Instruments For Holiday Fun  – Craft Booklet from DARIA's Little Village Store http://dariasvillagestore.storenvy.com/collections/34585-all-products/products/3498803-4-jingle-bell-craft-activities-booklet