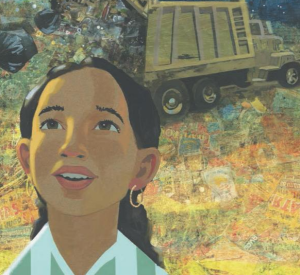 Have you heard about the children's orchestera where the instruments were made entirely from trash taken from a garbage dump?  How could this happen?
You'll love to hear the true story of a man named Favio Chávez who came to a small town in Paraguay as an environmental engineer and went to work in a huge landfill.  As he worked to teach safety practices at the dump, he became friends with the kids and the families – some of whom had working in that dump for generations!  And, he also loved music and was able to teach it!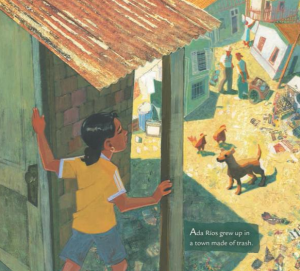 Can you imagine what happens next?  Favio dreams of a better life for his new friends and especially one where they could play music. One little girl named Ada dreamed of playing a violin but didn't know how she could ever afford to buy a violin or take lessons.  This inspiring story is a powerful testament to the power of music, hope and the difference that caring and creative people can make in the lives of their community.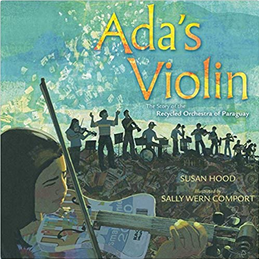 Ada's Violin was written by Susan Hood with beautiful illustrations by Sally Wern Comport.  You'll love reading about the Recycled Orchestra and how it changed one small town and  inspired the world!
Ideas For Making Music From Recyclables
Although these are simpler instruments, you can be inspired to turn trash and recycling into working musical instruments in my E-books.  If any teacher or educator does not have the means to purchase them, please contact me (daria music at yahoo dot com) and I can make a special copy available to them.
Turn Plastic Into Music
https://www.teacherspayteachers.com/Product/Recycling-Projects-TURN-PLASTIC-INTO-MUSIC-5-Multicultural-Music-Activities-3747012
Reduce, Reuse, Recycle and Rock Out
https://www.teacherspayteachers.com/Product/Reduce-Reuse-Recycle-Rock-Out-E-Book-With-10-Musical-Activities-653502
Daria's World Music For Kids TPT Store – Follow me for lots of freebies and resources here – https://www.teacherspayteachers.com/Store/World-Music-With-Daria