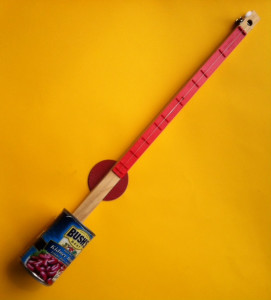 If you can count, you can play this instrument.
It's just that easy!
This simple one-stringed instrument made from a humble tin can is a great confidence booster for either young kids or adults who may doubt their musical ability.  Constructed like an Appalachian (stringed) dulcimer, you can play any note up and down the fretboard and sound great!  And check out the "play-by-the-numbers" songs or songbook and you'll be able to master songs you recognize literally within minutes.  What fun!
It's Bigger Cousin – The Dulcimer
The stringed dulcimer from Appalachia is a really similar instrument made with a wooden body and a few more strings.  If you'd like to see one, color one or hear one being played, check out the links below. This tin can instrument simplifies it even more.  There's only one string to play and a long fretboard marked with numbers.  To play it, you read the numbers to the song and push down the correct fret with your fingers.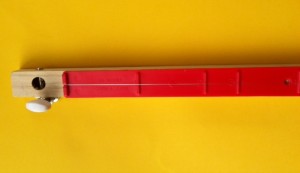 What's A Fret?  Don't Fret About It!
Okay, pardon my pun here.  The frets are the long spaces on the  fretboard.   When playing the instrument, push down gently but firmly at the center of each space – or fret- and then strum or pluck the string with the other hand.
So if the songbook says 3 – 4 – 5.  They press down of the 3rd fret in the middle, the 4th fret in the middle and the 5th fret in the middle.
And if you see a "0", that just means to pluck or strum the instrument without holding down any fret.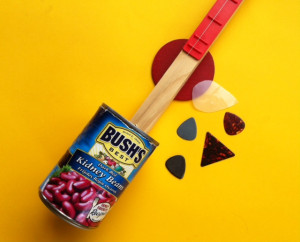 Pick-Ing It All Up!
You might want to pluck the one string with your fingers, but most folks prefer a pick.  That's a tough piece of plastic shaped in a teardrop or triangular shape used to strum over the strings.  Some picks are softer and some are harder.  If you have a few picks from a music store, try them out and see which ones you like the best.  It not, cut up a milk jug or a similar piece of tougher recycled plastic (like a coffee can lid) and make your own.
What Does It Sound Like?
The tin can instrument is a ton of fun.  Check it out here as we play the first song we learned on it – "Oh When The Saints Go Marching In".
Links And Resources
Hear A Dulcimer
http://www.dariamusic.com/dulcimer.php
Hear A Dulcimer Song
http://www.dariamusic.com/dulcimer.php
Color A Dulcimer (Online)
http://www.dariamusic.com/color_Dulcimer.php