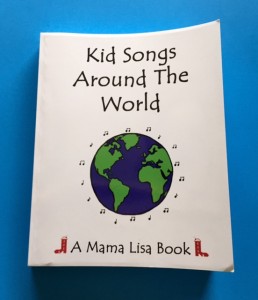 This is my new favorite international kids song songbook!
To be honest, I've been a huge fan of the website – Mama Lisa's World – for years, so I was thrilled to be able to review this new compilation songbook. It has 100 songs from global cultures – including indigenous cultures – along with descriptions, sheet music, translations and notes on where to find MIDI and recorded version for listening. This book simply could not be more complete – or more fun!
Many of the songs that Lisa has selected are not just great songs, they are also games and offer wonderful ways to combine music, language and movement. Because translations come with each song, you can also easily start learning  simple words and phrases in other languages as well.
Where does this songbook go? It opens in Africa with welcome songs, circle dances and call-and-response tunes. Next, the songbook goes to Asia, with songs of friendship, love and play. After that, you can find favorites from Australia and the islands of Oceania. In the songs selected from Europe, you'll meet familiar characters like the Sandman and Little Red Riding Hood. Of course, there are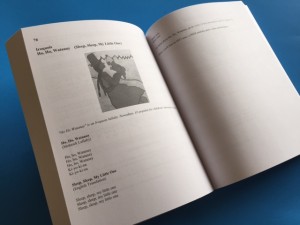 also songs from North America, including an Iroquois lullaby as well as English and French Canadian songs. The book closes with songs from Central and South America, including music with roots in Hispanic, Afro-Hispanic and Indigenous cultures.
What more do you need to know? This is definitely a must-have songbook for anyone who loves children's songs and world music! You can buy both digital copies or a full size physical copy at the links below.
Links And Resources
Digital Copy From Gumroad (352 Pages/5.64 MG/3.99) https://gumroad.com/l/GvQVT#
Kid Songs Around The World: A Mama Lisa Book (Physical Copy) From Amazon http://a.co/3mx1z0o