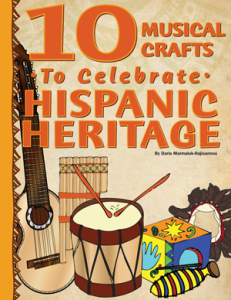 We're excited to be part of the MKB network's awesome blog hop that shares all aspects of Hispanic culture. Our contribution is a free and fun E-book that shares 10 Musical Crafts you can make to explore these exciting and meaningful cultural traditions.
Find that free E-book here: http://www.dariamusic.com/monthly_song.php
And please, read on.  There are contests, give-aways and lots of other great activities and information from some really awesome bloggers that I hope you get a chance to meet through this wonderful blog Hop.  And don't forget to scroll through the prizes to find and enter the Rafflecopter below!
Happy Hispanic Heritage Month!
Welcome to the Third Annual Hispanic Heritage Month Blog Hop, hosted this year by Multicultural Kid Blogs and 17 of our member blogs! Don't miss our amazing giveaway, and share your own posts at our linky!
Hispanic Heritage Month runs from September 15 to October 15 every year, "celebrating the histories, cultures and contributions of American citizens whose ancestors came from Spain, Mexico, the Caribbean and Central and South America" (from HispanicHeritageMonth.gov)
Be sure to visit all of the participating blogs (listed below) and follow our related Pinterest boards:
Don't miss our Twitter party "Celebrating Hispanic Heritage with Kids," Tuesday, September 23, from 9 – 10 pm ET! Follow #mkbhhm to participate!
MKB Hispanic Heritage Month Blog Hop: Participating Blogs
Discovering the World Through My Son's Eyes
Frogs, Snails and Puppy Dog Tails
My Favorite Multicultural Books
Hispanic Heritage Month GIVEAWAY!

This year to celebrate we are giving away fabulous prizes! Be sure to enter the Rafflecopter at the bottom of this post for a chance to win!
Please note that there are shipping restrictions on some prizes. In the event that the winner lives outside of the shipping area, that portion of the prize will be added to the following prize package.
Grand Prize Package
Smart Play Pad (SRP $ 24.99): Interactive tablet like electronic toy makes early learning fun and exciting for little ones. More than 30 touch sensitive keys teach language and pronunciation skills to help prepare children for school. Bilingual feature helps kids learn in English & Spanish. Lightweight and truly portable for on-the-go learning. Ships to US and Canada only.
A basket of fun from Escuela Falcón in Guanajuato, Gto., Mexico. This prize includes educational games, ceramic Day of the Dead skulls, a hand-painted ceramic box, wooden toys, and a certificate for 5 hours of Skype Spanish lessons with Escuela Falcón.
A basket from Lanugo with the book "Lula la Consentida," a limited-edition "Latino de Corazón" infant onsie, and Seventh Generation's baby product essentials. US shipping only.

A Spanish edition of the award-winning game Bananagrams.
DVD of Spanish music videos from Rockalingua.
A Movie in my Pillow and Poems to Dream Together – Books of poetry in English and Spanish from Lee and Low.
First Prize Package
A child's sweater and bag from Peru courtesy of Kid World Citizen. The handmade, wool sweater is typical from the Andes and might fit a child ages 2-4. The little backpack is also handmade with gorgeous details typical of the region.
A Spanish edition of the award-winning game Bananagrams.
Chocolalala – CD of songs in English and Spanish from Mister G.
Hola Hello – A CD of children's songs in English and Spanish from Mariana Iranzi.
Mis primeros poemas – A book of poems and audio CD for Spanish learners from All Bilingual Press.
Digital download of Spanish Colors Activities Pack with printable minibooks, games and activity pages from Mundo de Pepita.
Spanish activity book with an audio CD with listening exercises for kids between 3-10 years old (value: 12€) from Lingua Toys.
Hand-crafted guiro (traditional instrument), hand-carved from a gourd in Bolivia with a sun and moon pattern. Great instrument as well as a piece of folk art. From DARIAMUSIC. US shipping only.
Second Prize Package
Handwoven scarf from Nicaragua courtesy of Spanish Playground.
¡Las letras! and Señorita Bienvenida en el aeropuerto – Two children's books in Spanish from Libros Arellano.
A CD of children's songs in English and Spanish from Mariana Iranzi.
ABC Fiesta – CD of songs in English and Spanish from Mister G.
Digital download of 6 printable Spanish high frequency words books from Custom Literacy.
Bonus Prize: France Shipping Only!
Beautiful piñata created especially for this contest by Piñatas de Laly.
a Rafflecopter giveaway
Link Up Your Posts Now it's your turn to share your posts! The linky will be open through October 15, so come back and share throughout Hispanic Heritage Month!