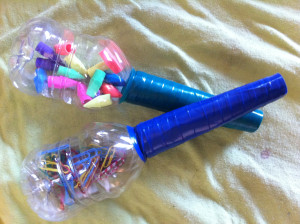 Do you have a young child going to school for the first time?  Or maybe a little one staying home while an older sibling returns to their Fall schedule?  Here's a fun craft that gives you some time together with your child while preparing for a new routine at home.  And you get to make use of recyclables from around the house as well as extra supplies – like paper clips or colorful erasers – left over from back-to-school preparation.
Start with two clean 8 oz (smaller) water bottles.  If you don't use plastic water bottles – ask around.  You may have friends or neighbors who can collect a few for you!  Fill each one with small items such as the colorful paper clips and erasers seen above.  Each one will sound a bit different when they are shaken because you've chosen two different fillings.  If you don't have these items on hand, you can use dried beans, rice, pebbles, buttons, beads, sand, salt or small pasta.  Feel free to get creative with what you add!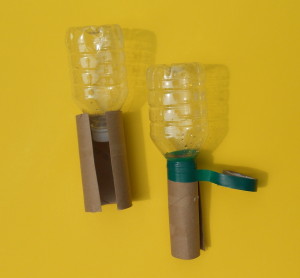 Once you've chosen your fillings, put the cap on each water bottle.  To create the handle, take two toilet paper rolls and make a straight cut down each one with scissors.  Twist the roll until it fits onto the cap side of the water bottle and begin wrapping it with electrical tape.  Start by wrapping the bottle to the paper handle with the tape and proceed down the handle.  This creates a sturdy way to hold onto your maracas as they are being played.  Then you're ready to shake, rattle and roll!
Maracas are one of the simplest instruments to play for young children or the beginning musician.  Put one in each hand and rock out!  You can let your kids experiment with shaking them in different ways or encourage them to move and dance while playing them.  You can make a pair for yourself and create rhythms together.  Since each maraca (and each hand) will sound slightly different, create rhythm patterns by shaking the different hands or calling out patterns by what's inside each instrument.  You can play patterns such as:  "right hand, left hand, right hand, left hand" or get creative with something like:  "Rice, beans, rice, rice, beans" or "buttons, buttons, beads, buttons, beads!".  There are no wrong ways to create these patterns.  Play with your new maracas and see what sounds best to you.  Or put on a favorite cd and find patterns that fit with the music you enjoy.
Supplies
Two small plastic water bottles ( 8 oz.)
Two toilet paper rolls
Electrical tape
Two different maraca fillings such as paper clips, beads, seeds, erasers, rice, beans or pebbles.
Want to play your new maracas along with a  song from Latin America?  Check out DARIA's bilingual version of La Cucaracha – a silly folksong from Mexico about a cockroach.  In this version, the cockroach plays a guiro and maracas!