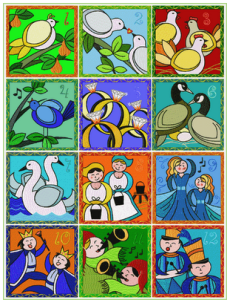 What child does not love hearing their name in a song?
A fun way to get ready for Christmas or Hanukkah with your small child is to create a simple song about the holidays using your family's activities or your child's name as part of the lyrics. Even if you feel you're not a particularly creative parent or a seasoned songwriter, you'll definitely get some holiday cheer out of writing a homemade version of either of these two tunes!
Create Your Own 12 Days of Christmas Carol!
Did you know that the 12 Days of Christmas song was originally a memory game? When it was sung, each person added a verse and had to recall the previous items on the list. Although you probably heard it with the same list of items as seen below, you can get inventive and make up a version with things that are special to your family or your classroom. Here's the most popular version of the items for the 12 days:
1 A Partridge in a Pear Tree
2 Turtle Doves
3 French Hens
4 Calling (or Colly) Birds
5 Golden Rings
6 Geese A-Laying
7 Swans A Swimming
8 Maids A-Milking
9 Ladies Dancing
10 Lords A-Leaping
11 Pipers Piping
12 Drummers Drumming
What can you substitute?  Check out the post below to see how one classroom in the Caribbean came up with a very funny version for the holidays from their island home:
http://www.tinytappingtoes.com/uncategorized/write-your-own-12-days-of-christmas-carol/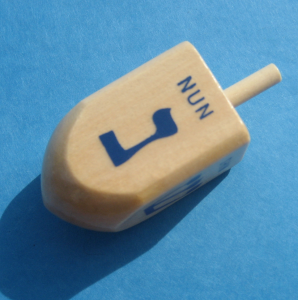 Who's Dreydl is It Anyway?
If you're learning about Hanukkah or getting ready to celebrate this special holiday, you can adapt the popular dreydl song to include your child's name. Simple and yet truly delightful, substitute your child's name for "I".  In other words, instead of singing "I have a little dreydl", try "David has a little dreydl" or:
Sarah has a little dreydl
She made it out of clay
And when it's dry and ready
Her dreydl she will play
Oh dreydl, dreydl, dreydl
She made it out of clay
And when it's dry and ready
Her dreydl she will play
You can find the complete set of lyrics plus an explanation of what the Hebrew letters mean on the free dreydl coloring page below.
So whether you're spinning a top or lighting a tree, you can easily give a special child in your life the gift of a perfectly personalized song!
Resources
Write Your Own 12 Days Song:
http://www.tinytappingtoes.com/uncategorized/write-your-own-12-days-of-christmas-carol/
Free Dreydl Coloring Page and Song Lyrics
http://www.teacherspayteachers.com/Product/Dreidel-Coloring-Page-985694
Dreydl Song and Activity From TeachersPayTeachers (.99)
http://www.teacherspayteachers.com/Product/Dreydel-Dreidel-Song-and-Game-Activity-921898
Sheet Music For The Dreydl Song From TeachersPayTeachers (1.99)
http://www.teacherspayteachers.com/Product/Oh-Dreydl-Dreidel-Sheet-Music-966158