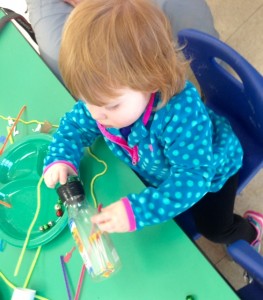 Have you ever looked through a kaleidoscope to see an ever-changing array of beautiful colors?
Here's a fun little rattle that creates a lovely flow of colors when it's played. And it's nice and quiet so it's perfect for music-making with a large group of children or for kids who have noise sensitivity. It's also one of our favorite projects for creating with kids on the autistic spectrum as it's fun to make, easy to control and the sound is soothing and not harsh or abrupt.
Here's what you need to make your own kaleidoscope rattles.
Supplies
Clear Recycled Plastic Bottles (like from water or juice) with a lid
Q-tips
Washable markers
Electric tape (for sealing the rattles)
What To Do
Clean and dry the plastic bottles thoroughly. You can do this easily by rinsing them out and placing them upside down in a regular glass or a jar.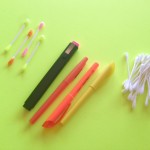 Next take the washable markers and color the tips of the Q-tips any color that you like.  Color as many as you like and drop them into the bottle.
Every so often, shake the bottle to see if you like the sound. The tone of the rattle will change each time you add another Q-tip to the container!
When you're satisfied with the array of color and the sound of the rattle, put the lid on and seal it up with electrical tape to keep the contents inside.
Time To Play!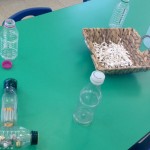 Shaking the rattle around in a circular motion displays a wonderful changing series of colors.  But since this is a rattle, you can play it any way you like. Shake it up and down, side to side or get up and dance with it!
Shake it along with a favorite song that you love to sing. Or play along to recorded music. Make several and compare the sounds as well as the colors as you enjoy your handiwork.
Have fun and keep making music!