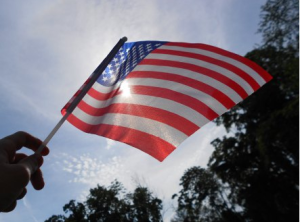 Wishing everyone a happy, harmonious fourth of July!
If you're looking for a fun soundtrack for a family gathering or 4th of July picnic, stop by our KIDS ROAD TRIP series and download an mp3 of this classic song loved by grown-ups and kids of all ages.
http://www.dariamusic.com/monthly_song.php
Curious about the song, Grand Old Flag? We did a short post a while back on the song's history and how it was inspired by a World War One Vet! You can check that out here:
http://www.tinytappingtoes.com/uncategorized/best-songs-for-young-kids-youre-a-grand-old-flag/
And last but not least, click on this video link for a shower of stars, stripes and flag-related fanfare while you enjoy your special day!