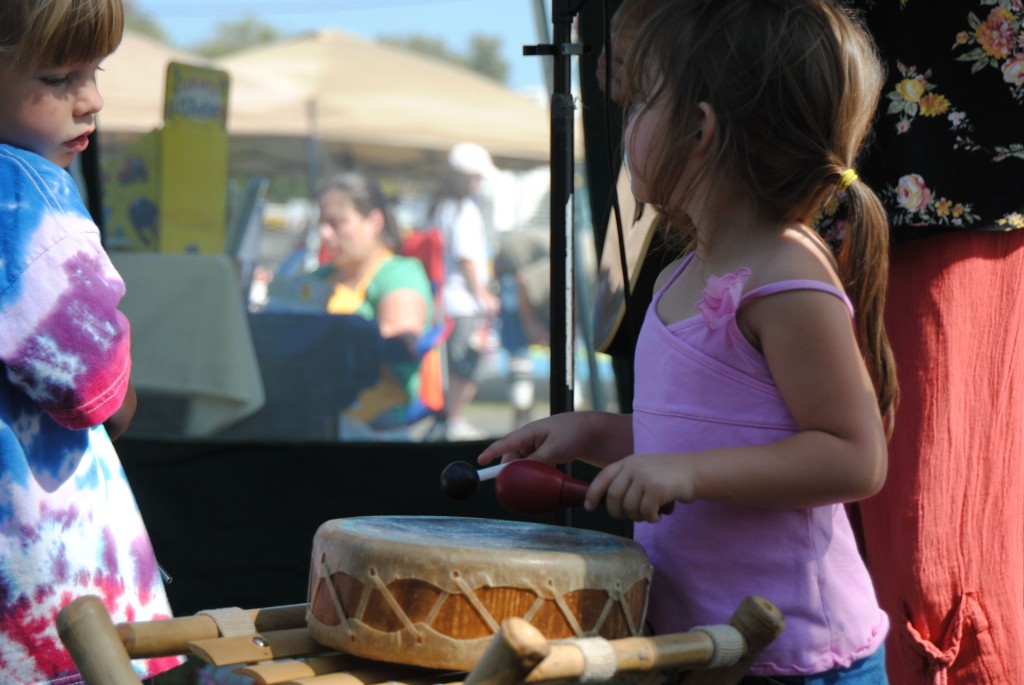 November is Native American Heritage Month!
What a fun time to make and play several different types of rattles that are found in Native cultures. Each rattle here is easy to make and can be used to explore Native American music and dance or for any musical activity with young children!
TURTLE ISLAND RATTLE
Did you know that the North American continent is often called "Turtle Island" based on a story that comes from an Haudenosaunee/Iroquois legend? Turtles also figure prominently in the lore and legends of many Native American tribes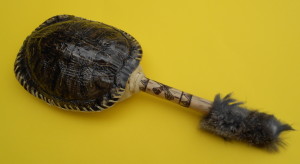 across the USA and Canada. Although the actual rattle is made from a turtle shell, this craft uses supplies that can be found around any house or classroom.
What do you need for a recycled turtle rattle? One take-out container of any size, a small amount of materials to fill the rattle (birdseed, pebbles, paper clips, etc.) a bit of glue and a piece of felt, poster board or foam to make the turtle's body. Plus you'll want to have some materials to help decorate the rattle, such as paint, glitter and glue or permanent markers and possibly some googley eyes for the turtle.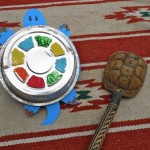 Here's a real and homemade turtle rattle side-by-side. Find the easy and free step-by-steps directions on DARIA's TPT Store, here:
http://www.teacherspayteachers.com/Product/Native-American-Turtle-Shell-Rattle-Craft-Using-Recycled-Materials-600715
CHAPCHAS OR JINGLEY BRACELETS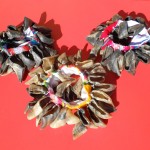 So many Native rattles are made from materials found in the natural world. Chapchas – from the Andes – are made of a rather unusual natural material, the clipped toenails of sheep or goats. The nails are boiled and sterilized then a hot needle punctures a hole in the nail so they can be threaded onto a strip of fabric about the size of a bracelet.
Don't worry – our recycled version of this instrument does not require chasing any sheep, goats or llamas for their toenail clippings! Instead, we start with a piece of yarn and weave in things that jingle as well as click and clack. We suggest a variety of household items such as buttons, beads, paper clips, jingle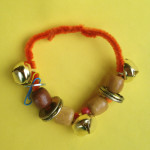 bells or dried pasta, to name a few.
Find Step-By-Step Directions as well as a free coloring page, here:
http://www.teacherspayteachers.com/Product/Color-The-Chapchas-An-Instrument-from-The-Andes-650050
www.teacherspayteachers.com/Product/Chapchas-A-Unique-Rattle-From-Latin-America-1426778
CHEROKEE NOISE-MAKERS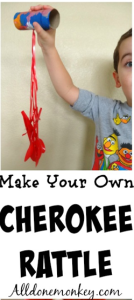 One of our favorite bloggers – Leanna (from All Done Monkey!) just posted this craft that her family made from the book they were reading (The Cherokee by Rennay Craats). In the book, these noise-makers helped a child know what they might hear at a special ceremony of the Cherokee. You can find the activity and the full post here: