As a music teacher who grew up among cultures, I am passionate about introducing children to music from cultures other than their home culture. Although it can be intimidating to share a culture with your children that you aren't that familiar with yourself, it can be such a rewarding learning experience for everyone, and the benefits are incredible! Today I want to share some of my favorite simple ways to introduce the music and culture of China to young children.
I know this is not exactly a traditional way to start, but I usually use a clip or two of 12 Girls Band to first introduce children to Chinese music. This is a great one:
Also this:
I usually introduce the genre by telling students that Beijing opera is one of the most famous forms of Chinese music historically. I also tell them in advance that it is going to sound and look very different from what they are expecting, but that I want them to tell me what they notice after watching.  Most students tell me that they notice the performers moving with the instruments, their makeup and costumes are very dramatic, and they sound like they are half-singing and half-speaking. We often end up having a very good conversation about what the definition of music is, because there are usually some students who question whether or not this "counts" as music at all! You can learn more about the genre here and here.
I hope you found some new ideas for exploring Chinese music and culture with your children! Thank you so much to Daria for letting me share my ideas on her site. I'd love to hear from you! If you'd like to stay in touch with me, please head on over to my site, Organized Chaos, where I share resources and thoughts to give parents and teachers the freedom to be creative through purposeful organization and broadened perspectives. You can find more posts on sharing music from other cultures right here. I hope you'll stop in to say hello!
Links And Resources
Make Your Own Chinese Gong Craft
https://www.teacherspayteachers.com/Product/Make-Your-Own-Chinese-Gong-From-Recycled-Materials-486935
Color A Chinese Erhu
https://www.teacherspayteachers.com/Product/Chinese-Instrument-Erhu-Free-Coloring-Page-3236532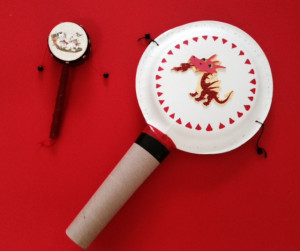 Make Your Own Bolang Gu Chinese Pellet Drum!
http://www.tinytappingtoes.com/chinese-mandarin/make-your-own-bolang-gu-chinese-pellet-drum/
Seven Days of Learning Mandarin Through Music
http://www.tinytappingtoes.com/chinese-mandarin/7-days-of-learning-mandarin-chinese-through-music/