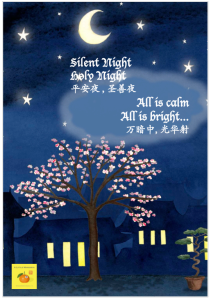 Want to hear an absolutely beautiful version of the song Silent Night in Mandarin?  Thanks to our friend; Toni Wang, you can visit the website – A Little Mandarin – and hear her beautiful translation of this classic Christmas song.  Just click here to enjoy and share:
http://alittlemandarin.com/2015/12/23/happy-holidays-from-alm/
Isn't it wonderful to see how these meaningful winter holidays are cherished and celebrated all around the planet?
A merry multicultural and multilingual Christmas to all!
Links and Resources
Favorite Holiday Songs From Around The World – Jingle Bells in Chinese
http://www.tinytappingtoes.com/uncategorized/favorite-holiday-songs-from-around-the-world-jingle-bells-in-chinese/
Favorite Holiday Songs – Rudolph The Red Nosed Reindeer In Japanese!

 別名花の
http://www.tinytappingtoes.com/uncategorized/favorite-holiday-songs-rudolph-the-red-nosed-reindeer-in-japanese%E2%80%A8%E2%80%A8-%E5%88%A5%E5%90%8D%E8%8A%B1%E3%81%AE/
Jingle Bells Video With Happy Holidays in 18 languages https://www.youtube.com/watch?v=GC7aUOKBfUM
Best-Loved Songs For Children – Feliz Navidad! http://www.tinytappingtoes.com/classroom-music/best-loved-songs-for-children-feliz-navidad/