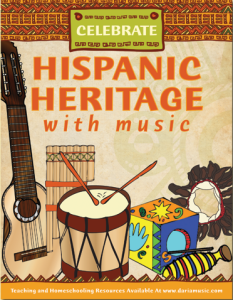 Can you believe that Hispanic Heritage Month is almost here?
It's celebrated every year from September 15th – October 15th and it's a great time to connect, explore and enjoy the beauty and diversity of Hispanic cultures around the globe.  For the past several years, I've been adding free items to my TPT store to share with teachers, parents and homeschoolers who want to have some hands-on fun as part of their HHM experience.
Here's our most recent list of HHM freebies that share the culture and musical traditions of Argentina, Bolivia, Chile, Columbia, Cuba, Ecuador, Mexico, Peru, Puerto Rico and Spain.
Wishing you a wonderful Hispanic Heritage Month!
FREE RESOURCES
Make Your Own Guiro – https://www.teacherspayteachers.com/Product/Make-Your-Own-Latin-American-Guiro-1230266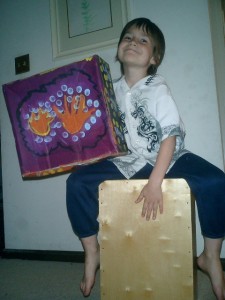 Make Your Own Cajon Box Drum – https://www.teacherspayteachers.com/Product/The-Cajon-Make-And-Play-Your-Own-Box-Drum-1236616
What Is A Quijada (Jawbone Instrument https://www.teacherspayteachers.com/Product/What-is-a-Quijada-Jawbone-Instrument-1406336
Mini-Poster (seen above) https://www.teacherspayteachers.com/Product/Celebrate-Hispanic-Heritage-With-Music-Free-Mini-Poster-1430823
Mariachi Guitar Coloring Page -  https://www.teacherspayteachers.com/Product/Mariachi-Guitar-Coloring-Page-2511636
Charango Coloring Page -  https://www.teacherspayteachers.com/Product/Charango-Instrument-Coloring-Page-2819105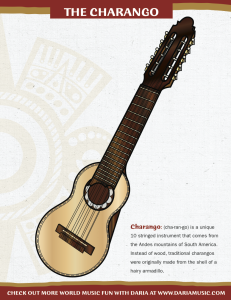 Color The Chapchas – https://www.teacherspayteachers.com/Product/Color-The-Chapchas-An-Instrument-from-The-Andes-650050
Color The Zampoñas (Panpipes) – https://www.teacherspayteachers.com/Product/Color-the-Zamponas-Panpipes-From-The-Andes-650601
Color The Bombo Drum – https://www.teacherspayteachers.com/Product/Color-A-Bombo-A-Drum-From-The-Andes-650642
Lyric Sheet  – Bilingual La Cucaracha https://www.teacherspayteachers.com/Product/La-Cucaracha-Lyric-Sheet-Bilingual-Version-2863996