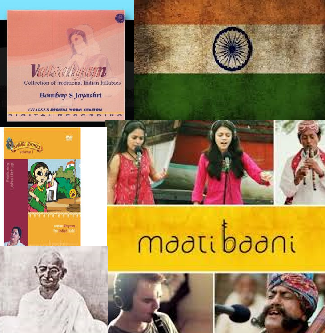 We're pleased to have a guest post this month by noted Indian-American Author, Meera Sriram.  In this short article Meera shares ways she stays in touch with her birth culture and makes it a welcome and enriching part of her children's lives.
It's been almost two decades for me and my husband in a country on the other side of the world. We had our challenges, big and small – navigating through grad school, finding what we liked to do for a living and adapting to new ways of life in the U.S. But little did we realize that the climb in the learning curve was yet to come.  The joys of parenthood came with the responsibility of keeping our children aware of our roots in India, and to constantly foster a connection between two diametric continents.
As an effort in that direction, we have been spending most of our summers with family in India. Besides providing great cultural immersion, it also helps my children find answers to why we do certain things the way we do in our home in the U.S. But how do we keep them in touch while we go about our lives here? Food is one way. I often put in the extra effort to learn and prepare traditional recipes besides standard fare. Books have hugely helped us learn about the places and people of India. Holidays and family traditions periodically help us celebrate our culture and customs in fun ways.  To add to this list is music. While I come from a family of well-trained classical musicians, my knowledge of Indian classical music is still limited (strange, but that's a story for another day-:) And since we don't watch Bollywood, film music is not the staple. However we do expose our children to classical (Carnatic) music and Indian film music now and then. But there are some songs that cannot be boxed into either of these, but have better appealed to their senses. They have also opened up beautiful passages to connect with the music and culture of India. Here are some of them:
Favorite Songs For Sharing With Kids
Both my kids have been soothed to sleep by the comforting and melodious songs in this collection of traditional lullabies by Bombay Jayashri. Interestingly, each song is in a different regional language of India.
Karadi Rhymes was my first find to consciously introduce cultural elements of India to my first born, when she was a toddler. The songs are set to folksy tunes and the lyrics bring out the flavor of the country through simple themes like mangoes, chai and Diwali.

Vaishnava jan to tene (Preview) is a song I often listen to which caught the attention of the kids as well. Interestingly, one of the reasons for this song's claim to fame is that it was a favorite of Mahatma Gandhi. Maybe this tidbit is why they are fascinated?  I'd never know!
Lately, our palette has grown to include fusion music as well, the kind where East meets West. Some recent favorites are  A.R. Rehman's Zariya (Preview) ,  Maatibaani feat. JoyShanthi (Preview) , Karthick Iyer's Clown's junket (Preview) and Shankar Tucker's Jaane Kaise (Preview) .
Vande Mataram is an eternal favorite at home – a patriotic song that celebrates the diverse landscapes and people of India with amazing visuals that reinforce the love for the land.  Here's a Youtube version of that song:
http://www.youtube.com/watch?v=MRPpSgRqtRc
————–
Color The Instruments From India!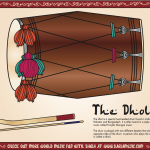 You can find coloring pages including the dhol drum and the Indian sitar on DARIA's world music for kids site, in the activity and craft section here:
http://www.dariamusic.com/crafts.php