Want to add some musical hot chocolate to your favorite playlists? Spotify, Apple Music and Pandora listening links to DARIA's version of this great song are below.
A lot of people recognize the song from the PBS show Dora The Explorer. But did you know that "Báte, Báte Chocoláte" is probably about 400 years old, first appearing as a counting rhyme in schoolbooks written in Spain? Wow, that's an ancient song, but one that is so easy and fun to sing.
If you don't speak Spanish, here's a bit of an explanation of the song.
The song counts to three in Spanish (uno, dos tres), then it progressively spells out the word "chocolate"(CHO CO LA TE).  The word "báte" is from the Spanish verb "batear" meaning to whip or beat (like you might beat cake batter or whip homemade frosting with a mixer).  Why is the chocolate being beaten or whipped?  That's how the drink is prepared.
To make Mexican hot chocolate, you put all the ingredients together and heat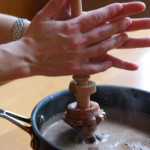 them up. As you do, you use a special carved stick called a molinillo that is rubbed between your hands to create the frothiness and delicious texture that makes this such a special treat! Although this was mainly considered a breakfast treat in Mexico, it's hard to imagine it not being delicious any time of the day or night.
So sing along, or better yet, whip up some hot chocolate while you enjoy the song, especially if the weather is cold and frosty!
Links And Resources
Listen on Spotify: https://open.spotify.com/track/2osmKIhdalG0si6IjQri3j
Apple Music:  https://itunes.apple.com/us/album/beautiful-rainbow-world/id208109471
Pandora: https://www.pandora.com/artist/dora-the…/bate-bate-chocolate/TRlVgkxZ6rxkcwK
Free Lyric Sheet for Báte, Báte Chocoláte
https://www.teacherspayteachers.com/Product/Bate-Bate-Chocolate-Free-Lyric-Sheet-3732121
Báte, Báte Chocolate – On Itunes
https://itunes.apple.com/us/album/do-the-limbo/id208109471?i=208109484&ign-mpt=uo%3D6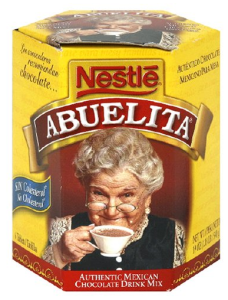 Báte, Báte Chocolate – On Amazon mp3
http://amzn.com/B0013XM8LCDirections For Mexican Hot Chocolate From Pati's Mexican Table: (Photo above is courtesy of Pati's Mexican Table – An Excellent site for exploring Mexican Cooking!)
http://www.patismexicantable.com/2010/02/ancient_ways_for_comfort_in_cold_days_mexican_hot_chocolate/
Directions For Mexican Hot Chocolate From Multicultural Cooking Network  http://multiculturalcookingnetwork.wordpress.com/2009/10/12/authentic-mexican-hot-chocolate-recipe/