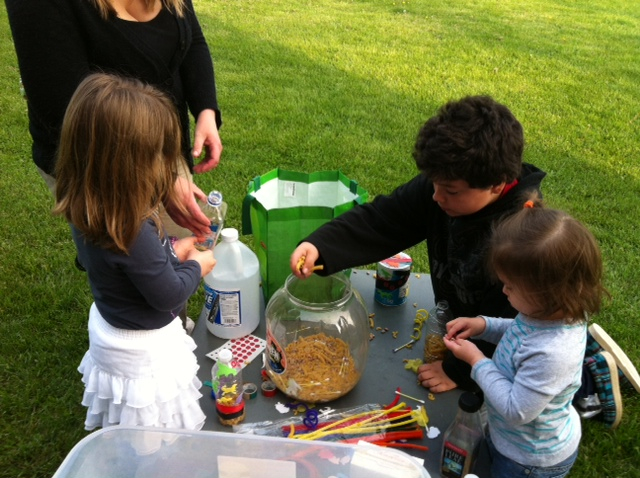 When music is playing, everyone wants to be part of the fun -  especially young children.  A few years ago I designed an easy activity for the Nick Jr. Worldwide Day of Play that was a cross between a salad bar and a make-you-own-sundae toppings bar, only we were making musical instruments that the kids could keep and play.  Since that time, I've had a lot of fun doing this craft activity at Earth Day celebrations, school presentations and in community parks.
Here's how it's done, but feel free to be creative and add your own ideas and twists to this fun way of recycling, upcycling and rocking out with the kids!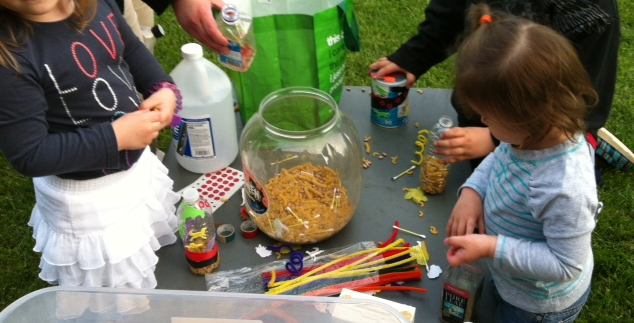 Set Up A Table
It helps to make a location, such as table, where kids can form a line and follow a few steps to make their own rattle.  At the beginning of the line, have a variety of clean, recycled containers such as empty water bottles or plastic juice containers.  Next have several dishes of small items that the kids can choose to use to fill their container.  Birdseed, dried beans, rice or pasta make great choices.
Two Hints: A longer list of possible contents is below.  Also, its a good idea to stay away from nut or peanut products because of allergy issues.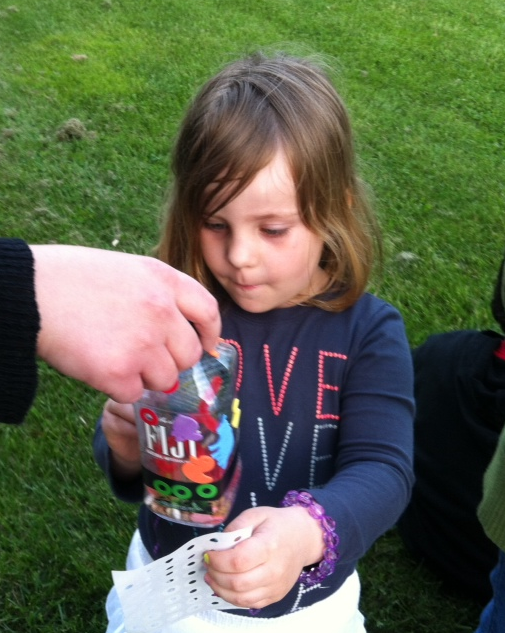 Another approach to filling the rattles is having one large container used to collect a variety of these materials.  Kids can reach in and grab a handful of items and place them in the funnel that will fill their rattle.
Decorate The Inside
Who doesn't love glitter? Or confetti?  Have a few choices that the kids can use to add some crafty "bling" to their rattles.  For this part of the craft, funnels really help in getting the glitter or confetti inside the rattles.
Seal the Rattle
Once the child is done with the rattle "insides", seal up each rattle with electrical tape.  Even if you are working with older children, these rattles will sometime get into the hands of smaller children and having them sealed with sturdy tape keeps the project much more child-safe!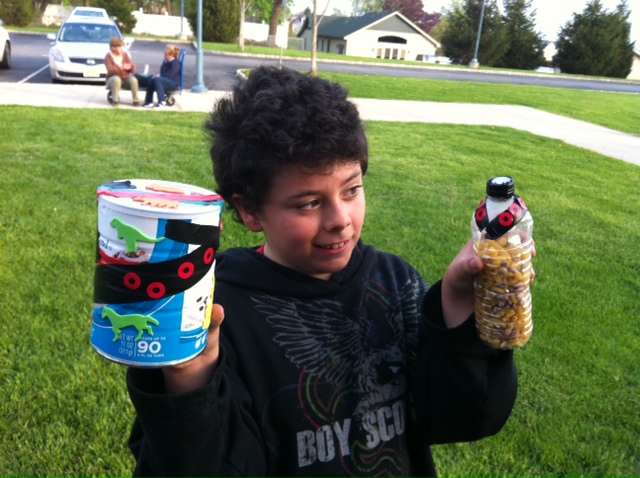 Decorate the Outside
Once the rattle is sealed, you can add stickers, tape or use yarn or pipecleaners to make colorful streamers or handles for the rattles.  Look at some of these artistic rattles!
Stone Soup Rattles?
Have you ever heard the Stone Soup story?  It's a tale where everyone brings one item that makes for a tasty dish for all to share.  If you want to do this craft as a group or gathering activity, you can ask each person to take one item from the list and bring it to the event.  That way everyone participates in the making and playing of the new instruments!
Here's a list of supplies for this activity.
Supplies
A supply of clean, dry recycled plastic bottles and containers.
Funnels – (wider-mouthed ones work best!)
Rattle "contents" such as dried beans, rice, birdseed, dried popcorn, lentils, pebbles or different shapes and sizes of dried pasta.
Electrical Tape
Glitter
Confetti
Stickers
Yarn, ribbon or pipecleaners.
Anything else?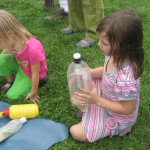 Shake It Up!
When you've made your musical instruments – go ahead and make some music!  Invite someone who plays a guitar or musical instrument and they will have a perfect percussion section!  Or bring along some recorded music and let the kids and adults play along.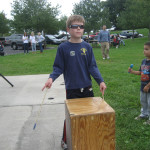 Making music together brings the whole community together.
Isn't that a great way to spend the day!