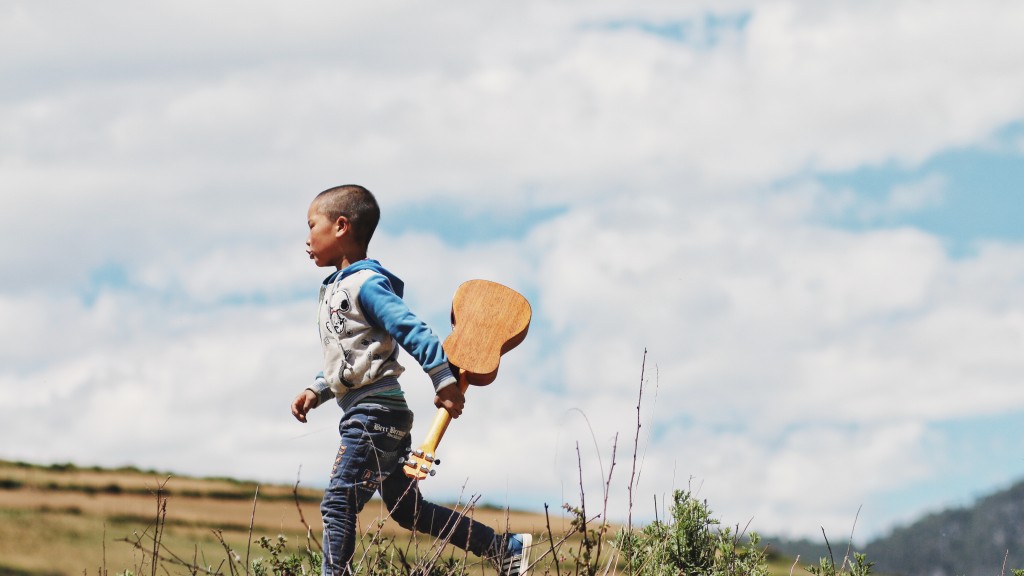 Guest Post By Colleen Kinsey
The ukulele is a fun sized instrument that has kids and adults, grinning after the first string is plucked.  Ukuleles are the perfect instrument for kids because they are small and easy to play, plus it's relatively inexpensive compared to other instruments. Learning the ukulele will increase your child's memory skills, improves coordination, boost confidence, and nurture skills to make them successful as adults.
When I talk to parents, one of their favorite reasons for getting their kid started on the ukulele is because the soft, mellow tune isn't heard throughout the entire house! Before you run to the local music shop and to purchase one, follow these five steps to introduce your child to the ukulele.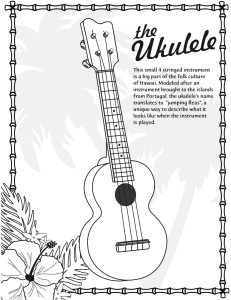 Start from the Very Beginning
Music lessons take all forms and can begin right after birth. As a new parent, swaying and dancing with your baby introduces them to a musical environment. With your toddler, you can play simple movement activities and games. Even playing music in the car can count as a music lesson, which helps them build a positive relationship with music.
Around the age of three, you can start putting your child in more formalized lessons. The goal isn't to pick up a ukulele and start plucking, it's more for them to develop basic skills like identifying a beat or a melody. When you're looking for classes, make sure you and your teacher have the same musical goals for your child.
By the age of 5, you can introduce your child to a variety of instruments. I recommend finding a program that allows your child to play many different types. Forcing your child to only play the ukulele, without trying out other options can be a recipe for disaster. It helps to see what instrument your child is drawn to and enjoys playing before investing in one.
If you and your kid decide that the ukulele is the right instrument, you can start them in formal ukulele lessons. When your child reaches the age of 10, they will have acquired enough skills and physical strength to play the ukulele for longer periods of time.
Choose the Right Ukulele
Before you run out to buy a shiny new ukulele, make sure you are getting the appropriate size, shape, and style for them to learn on. I suggest consulting with a music teacher or a knowledgeable ukulele player before buying this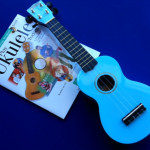 instrument. If you purchase one for your child without doing a bit of ukulele research, you will risk their ukulele education being counterproductive.
Have your kid test out a few ukes at the music shop. My favorite method is to pick 3 ukuleles that are the appropriate size, style, and in your budget then let them choose their instrument. After all, they are the ones that are going to be playing it every day. Empowering your child to choose their own ukulele and make decisions helps cultivate a good relationship with the instrument.
Be an Involved Parent
I have seen many children that have real talent and knack for the ukulele, but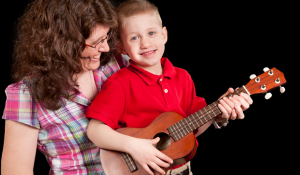 their skills fall flat due to the lack of time spent practicing at home. Having a practice schedule at home goes well beyond mastering the instrument. It teaches your child self-discipline, which is something that will help them be a successful adult. Self-discipline isn't second nature for a child, so it's your job as the parent to find engaging and positive ways to encourage self-motivation.
If you have a child that struggles to get their daily practice in, try different approaches to the task. Consider what time you're having them pick up the ukulele. The typical student will practice after school, but sometimes children are more motivated at the beginning of the day. It may take some trial and error to determine what works best for your family.
I had one parent that thought of a unique way to motivate their child. They got a handful of dried beans and let their child decorate the beans with paint and glitter. When they practiced at home, she would get a bean for each part of the lesson she completed. Finding fun ways to motivate your child will help them associate fun with learning the ukulele and teach them self-discipline.
 Set Easy to Accomplish Goals
A practice session can be useless without attainable goals for your child to accomplish. Children will feel proud when they have successfully completed a goal, which will motivate them to continue playing. Writing down what they want to accomplish or adding gold stars to their practice log is a great way for them to feel proud of themselves.
Work with your ukulele teacher to determine what the appropriate benchmarks should be. Each practice session should incorporate multiple goals, whether it's to hit every ukulele chord without faltering or play a song from start to finish.  Here's a great resource for learning  ukulele chords .
Performances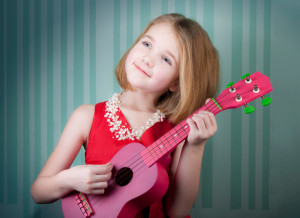 Performances provide a motivation to practice, because your child will want to play well front of other people. Your music teacher should have an end of the year recital, but as a parent you can incorporate small performances throughout the year.
Start by having your kid play the ukulele for the family after dinner. The sound of applause after a song well done is a great incentive. If your child feels comfortable, some don't, try to get them to play at your extended family gatherings. This provides them a safe environment to play in front of people they know. It also allows them to get over the feeling of stage fright and boosts their confidence.
Not only is the ukulele a fun instrument to play, but it helps teach your child self-discipline and boosts their confidence. Learning the uke increases their math, listening, reading, comprehension, and social skills all excellent reasons to put a ukulele in your child's hands.
About The Author  – Colleen is a traveler, ukulele instructor, and Editor in Chief to  Coustii a website devoted to teaching guitar and ukulele skills to people online. She is based in Des Moines, Iowa, but her ukulele has been with her around the world.  You can find out more about here musical travels, here: Travel Meets Happy.