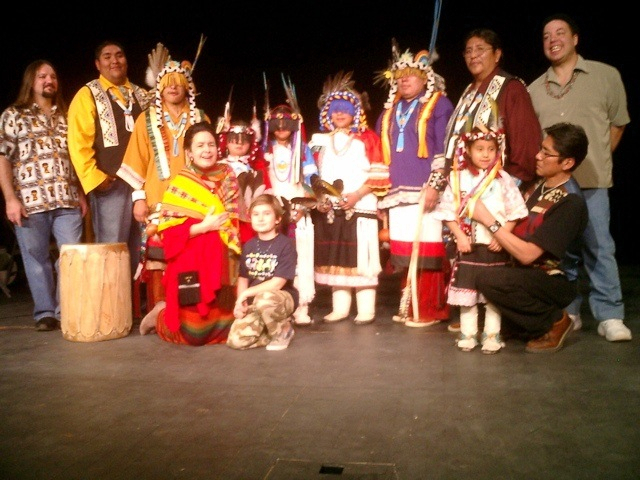 This post is part of a "Happiness Around The World" Multicultural Kids Blogging Carnival.  Hosted by Giselle of KidYogaStories, the series shares how simple pleasures enrich the lives of people all over the world.  We chose to write about one of our favorite activities – being a part of our regional pow-wows.
One of the ways that Native American celebrate life and family is through drumming and dancing.   Whether it's a relaxed gathering of friends or a formal pow-wow complete with dance contests and special exhibits, the sound of the drum and a place to move to the beat is a special way to enjoy time with family and friends.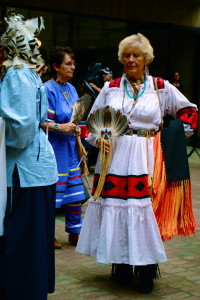 Are all pow-wows the same?  Not at all!  There are many different tribes and traditions across the USA and each has distinct clothing, dances and even different singing styles.  Some larger pow-wows have visiting drum groups that play throughout the day and most have a large dance ring that creates the central place to dance.  Around the ring are usually chairs and places to catch up with relatives and friends that might not have been seen in a while.
Can anyone attend a pow-wow?  While it's true that some pow-wows and gatherings are closed and are "by invitation only", most events that are visible to the public are open to the public.  Everyone is welcome to attend and enjoy.  There are just three simple tips that are helpful if you decide to go.  First, the special clothing worn by dancers is called regalia.  To some, it would be offensive to call it a costume, but it is not offensive to ask about it in a respectful way.  Secondly, ask before taking any photographs.  And lastly, respect your elders.  Allow any elders to go into the dance ring first, or to find seating or take a place in line for food.  Native culture shows great respect for both elders and veterans and they are generally placed first in any procession at a pow-wow such as the Grand Entry.
Can you learn to dance, Native American style?  It is easy and fun to learn these dances.  The simple steps can be mastered by anyone and the complicated dances are great for more serious students.
If you take a look at some of the links below you can find more information about how drumming and dancing create happiness and keep people connected in Native communities across the country.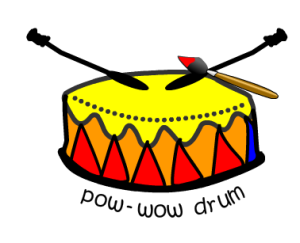 Hear a Pow-wow Drum Played by the Starfeather Singers
http://www.dariamusic.com/drum.php
Hear a Pow-wow Drum Song Sung by the Starfeather Singers
http://www.dariamusic.com/drum.php
A Make-Your-Own Pow-wow drum project
http://www.dariamusic.com/make_Drum.php