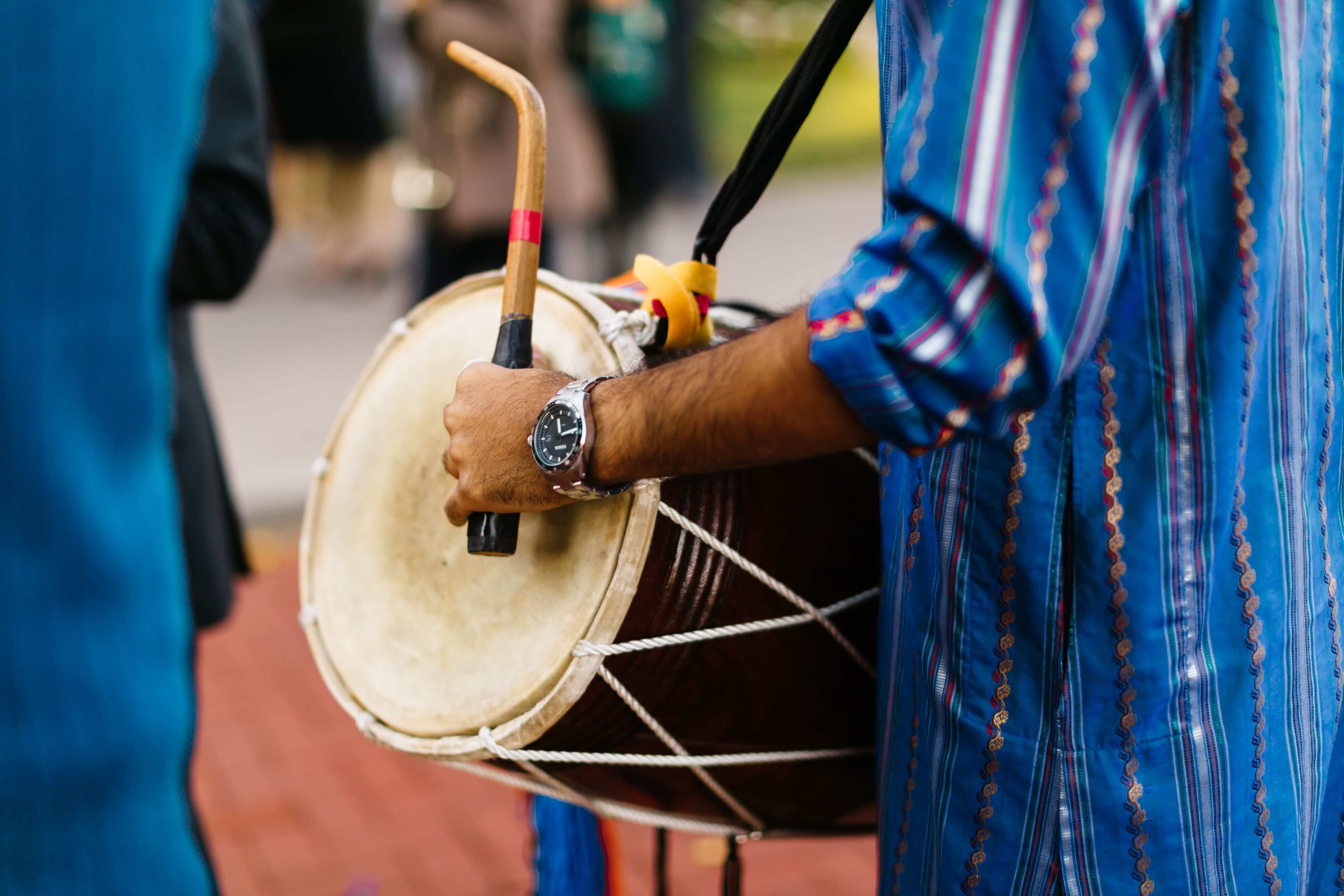 Almost every culture has a special kind of drum to call its own.  In Northern India, the dhol is a two-headed drum worn around the neck, often decorated in very beautiful ways.  It is played with two beaters (sticks) and can be a fun way of encouraging coordination between right hand and left hand as well as exploring new rhythms or the culture of India.
Supplies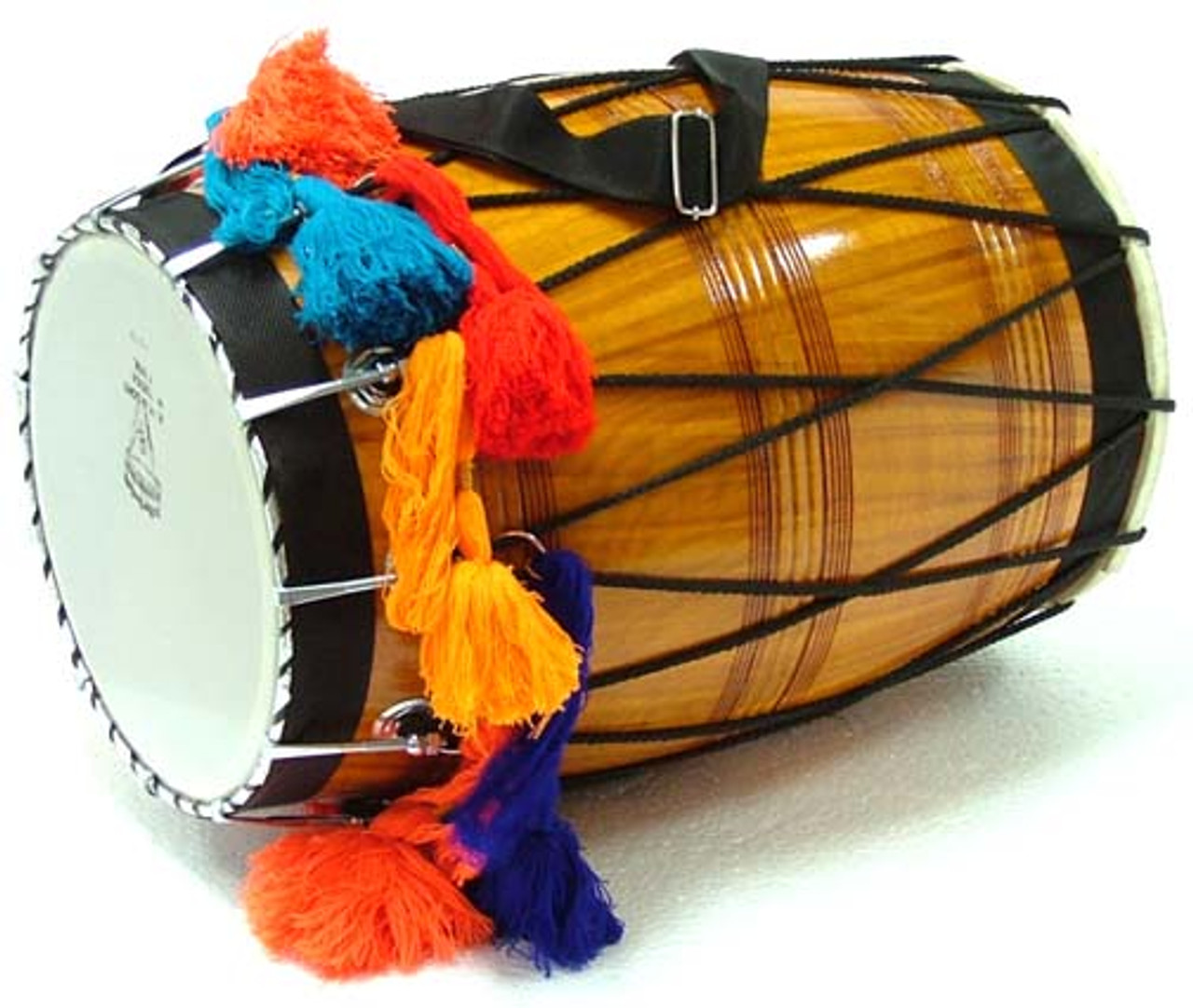 To create a homemade version of a dhol drum, you need a few simple supplies:
Round (cylindrical) cardboard container (from oatmeal, bread crumbs, corn meal, etc.)
Felt, construction paper or poster board (large enough piece to fit around the cylinder).
Duct tape
Piece of sturdy ribbon, bric-brac, old belt or recycled strap from a purse.
2 pencils
2 plastic spoons
Materials for decoration (if desired)
Crayons, markers, stickers, or glitter and glue.
Yarn for tassels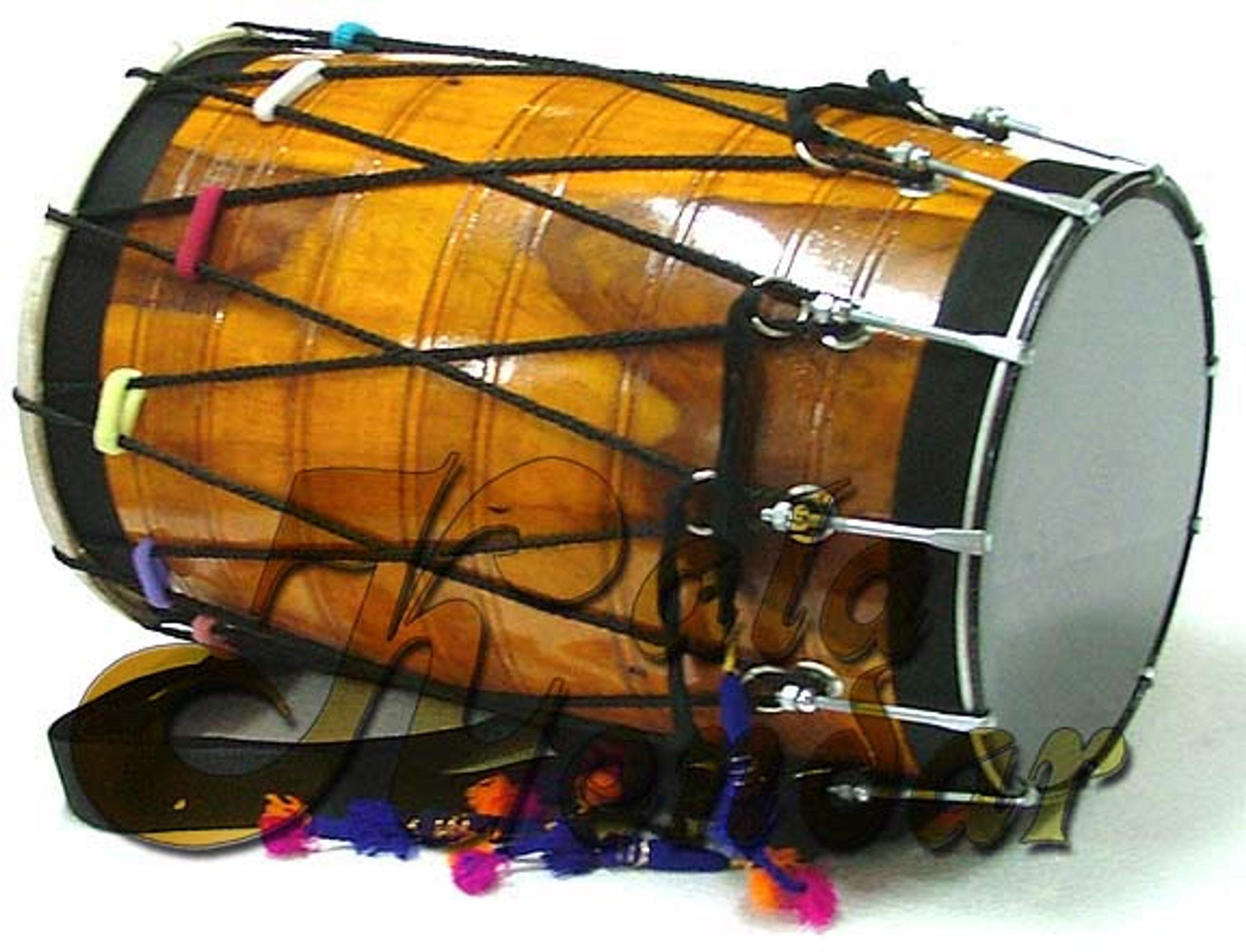 Make Your Own Dhol
Start by cutting a length of ribbon or strap so that the "drum" that will fit comfortably over your child's head and hang at about stomach height.  Duct tape the strap into place onto the cylinder.
Next, cut a length of felt, construction paper or poster board to fit over the cylinder.  Decorate it with crayons, markers, glitter and glue or similar materials, if desired.
When you've completed your design, tape the felt or paper into place.
Create two beaters for the drum.  Since sticks can be a safety hazard with young children, I encourage parents, teachers and caregivers to tape two plastic spoons to unsharpened pencils and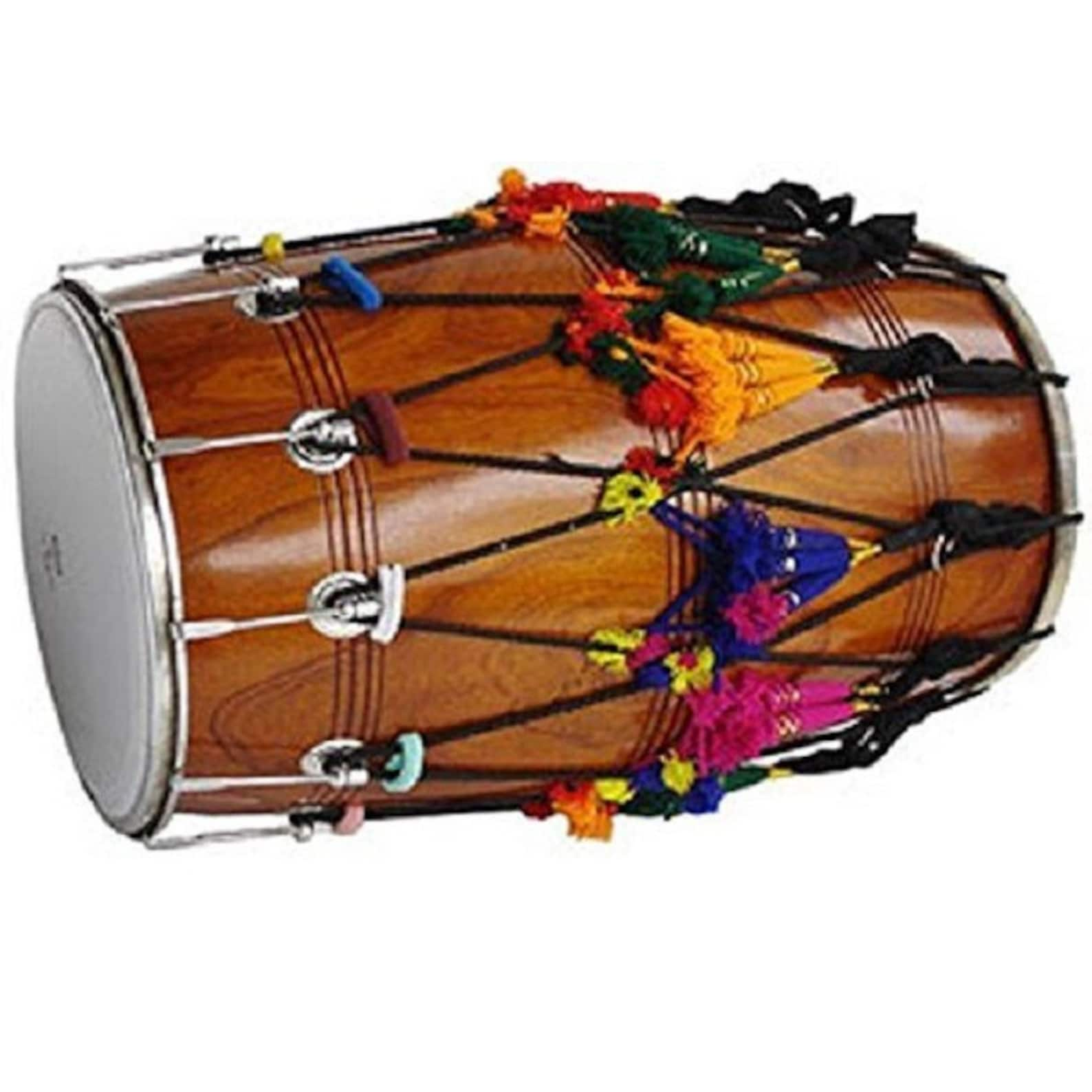 use them as beaters.  They are the right length for dhol drum beaters and don't leave any sharp edges exposed.
Tassles?
Many dhol are decorated with colorful tassels.  If you want to add some to your drum, simply wind your favorite colors of yarn around a small length of cardboard.  Slip the yarn off the cardboard, and tie one side creating the "head" of the tassel.  Then cut the strings on the opposite side so they will hang down as fringe.
And attach to your drum!
Playing the Dhol
Allow your child to put the drum "on" and experiment with striking each side with a beater.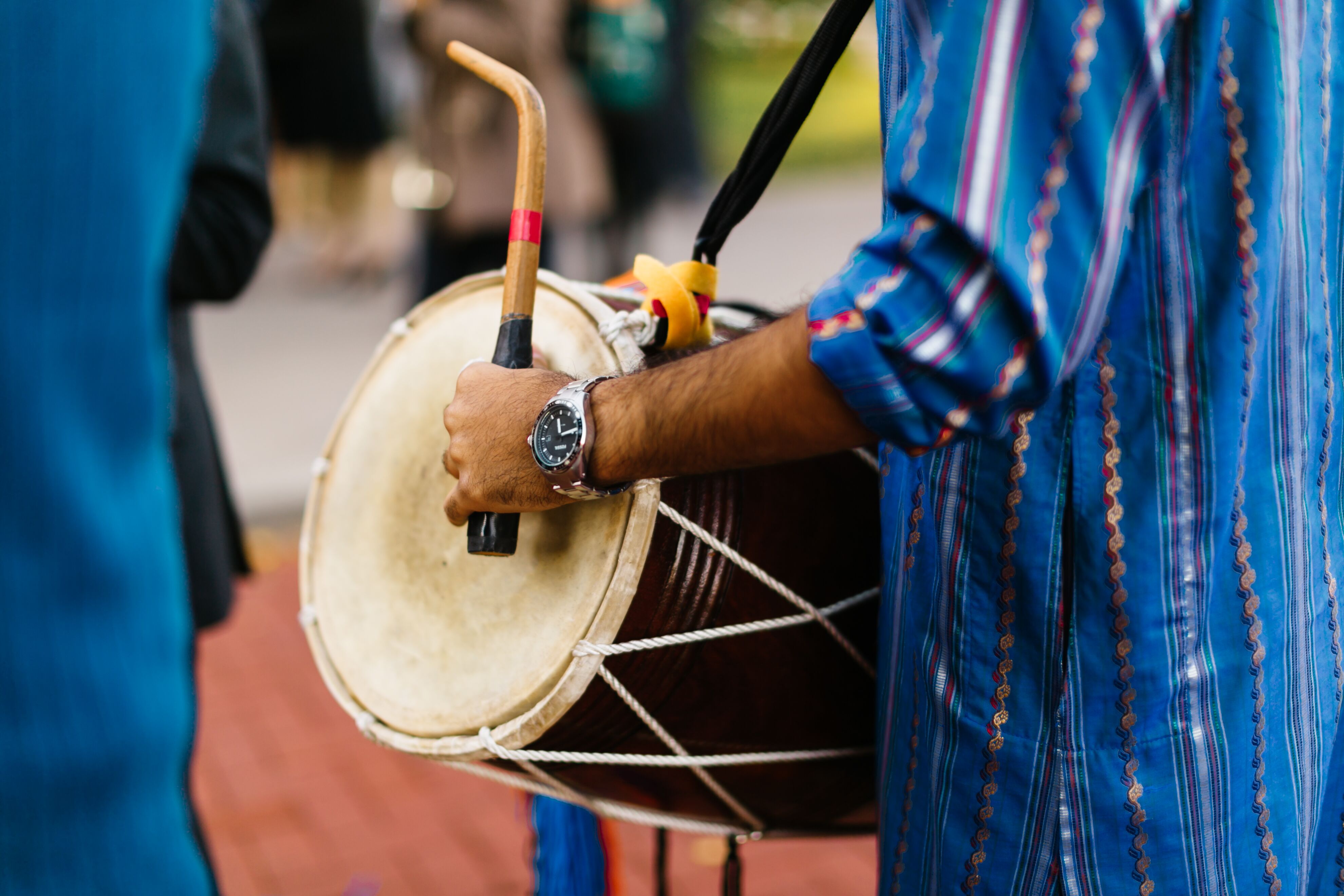 Try striking back and forth slowly and then more quickly.
Try making up patterns like: "Left side, left side, right!"
Or more complicated ones as well.
Try walking and playing your dhol.
Discover some traditional dhol rhythms and see if you can imitate them.
The Traditional Dhol
Want to discover some traditional rhythms played in this drum? You can see and hear them here:
Other Instruments From India – Indian Ankle Bells
Check out this fun and easy craft – making Indian-style ankle bells called ghungroo: https://www.teacherspayteachers.com/Product/Instruments-From-India-Make-Your-Own-Ankle-Bells-Ghungroo-486879
Links:
Color a Dhol  http://www.dariamusic.com/docs/Dhol%20Coloring%20Page.pdf
Dhol Drum mini-poster and coloring page from TeachersPayTeachers http://www.teacherspayteachers.com/Product/The-Dhol-Drum-Instruments-From-India-904625