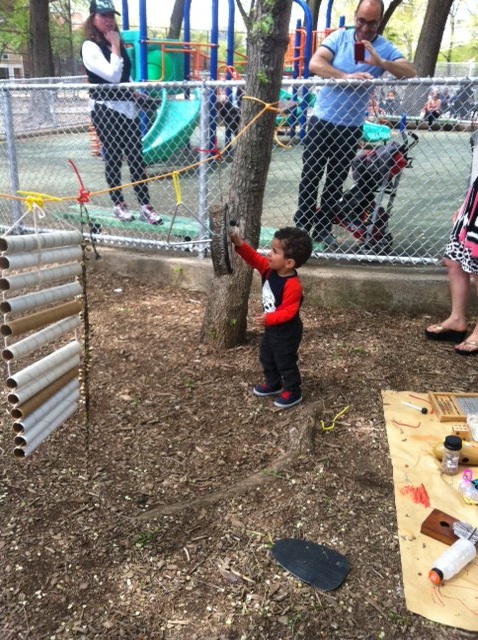 Getting outdoors and making music are two great activities for children of all ages – especially when the weather is wonderful!
If you have a special tree with low branches in your backyard or local park you can easily create a living musical sculpture for outdoor play.  If not, no worries.  Almost any playground, driveway or open space can accommodate a sturdy clothesline that will easily transform into a magnificent musical monstrosity just as easily!
And the best part of this project is that you already have everything you need to create a truly unique music tree or rhythm clothesline right in your garage, home basement and recycling bin!
Gather Your Materials!
If you're making a musical tree, find some sturdy twine or rope to hand the instruments.
If you're making a rhythm clothesline, you'll need a longer, sturdy rope that will reach across your desired area.
A safe, sturdy stepladder
For Both Projects 
Extra string, twine or pipecleaners to attach instruments
Scissors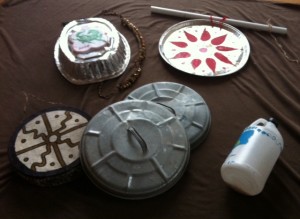 Instruments
We'll describe a variety of instruments perfect for this project and you can pick out what you want to create.  Or come up with some of your own awesome ideas!
Quick Tips and Suggestions
The pipecleaners help smaller children attach instruments without the need of knot-tying skills.
A basket for mallets keeps the area neat and organized.
If you make the instruments or gather the things you want to hang in advance, this project makes a fun activity for a party, family event or gathering of homeschoolers.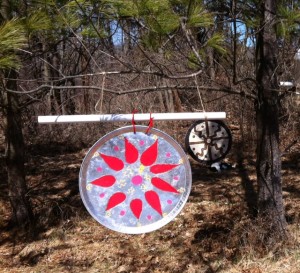 A Recycled Gong!
What better way to start off a musical session than banging a gong.  Take a used serving plate or aluminum turkey roasting pan, decorate and hang for a homemade gong.  (A complete Chinese gong craft is in the resource links below as well).
A Cardboard Roll Guiro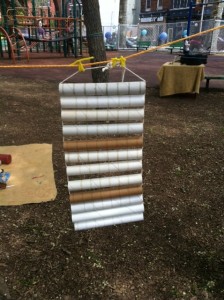 If you've collected paper towel rolls, you can string them together and create something that looks like an oversized washboard.  Dragging a stick, mallet or whisk over the ridges will result in a wonderful "brrrrrrrrrrrrrrr" sound.
Hang Some Jingling Things
Filling up any clean gallon jugs or similar recycled plastic containers with things that ring or jingle makes a great addition to this project.  Add actual jingle bells; if you have them, or look for pebbles, birdseed, dried macaroni or similar objects that will ring, ding, whoosh or swoosh when the jug is tapped.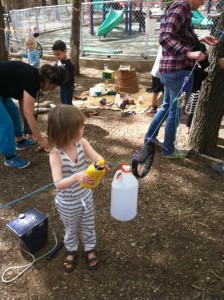 Tap A Tambourine
Do you have any older or almost discarded musical instruments?  Any broken wind chimes?  These sound great when attached to the tree and played.
And The Kitchen Sink?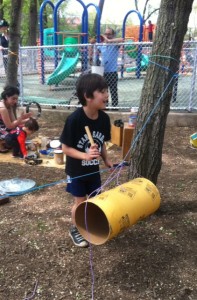 What else do you have around the house?  Here we found a large roll used to mold concrete in our garage and put it up so that it could be played like a hanging log drum.  What other items or objects can you find that might make some neat noise?
Make Some Mallets
Obviously, you can tap the instruments hanging from the tree with your hands.  But you can also make some mallets and show the kids how to play each item in new and different ways.  Great mallets can easily be created  from wooden dowels, sticks, unsharpened pencils, chopsticks or similar objects.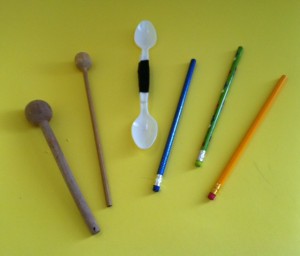 Most mallets used in world drumming have some kind of "head", and this not only creates a better sound but helps kids move away from the concept of poking or hitting with sticks, to the idea of using them as real tools and instruments.
Play The Tree
Kids can get really excited about this project so it helps if the adults or older kids model different ways to play the instruments and encourage the kids to listen and try different techniques instead of just hitting or banging away.  For instance, tapping the gong in different places and in different ways results in distinct sounds.  Using two sticks to play a large tube can create some amazing rhythms.  Tapping different jingling jugs can make a series of different sounds that are like musical notes.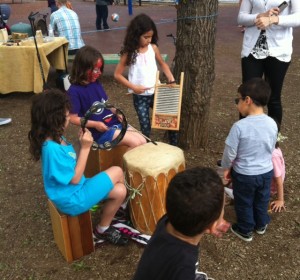 Dance and Drum, All Around!
And, in addition to instruments hanging up, you can create things like jingle sticks or sistrums made from tree branches to dance and play around the musical sculpture.
Don't forget that you can also bring or make drums to play beside the tree.  You can create free form rhythms or you can sing and play the tree or clothesline at the same time.  Invite someone who plays guitar or another instrument to come and be part of the fun.  Or bring a music device and play recorded music as a soundtrack for your creative percussion.
Listen, learn and love it!
What different ways will you play?
Chinese Gong
http://www.dariamusic.com/docs/chinesegong.pdf
Tree Branch Sistrum
http://www.dariamusic.com/docs/naturalsistrum.pdf
Jingle Sticks
http://www.tinytappingtoes.com/classroom-music/easy-may-day-jingle-sticks/