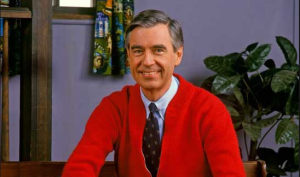 Although you usually find articles on music for young children here, I wanted to give a quick shout out to anyone wearing a sweater today in honor of one of my heroes, Mr. Rogers.  When I was growing up, Mr. Rogers was a quiet, gentle voice that truly listened to kids – a person anyone would want to have live in their neighborhood!
Looking back, I realize how many lessons I have learned from this kind and caring man.  He was never afraid to be himself. He cared about children before it was "cool" to do so.  He never seemed to feel the need to play the superstar, although he certainly held that place in many hearts.  He was happy doing the wonderful job given to him with dedication and determination as well as a smile and a song.
When I began my career in music, I knew several people who had the honor of being guests on his show. They came back from their time with Mr. Rogers saying he was "the real thing".  His t.v. personality and his real life persona were the same kind of grown-up that inspired others and left a lasting impression.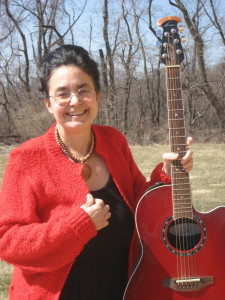 As I move into my career performing multicultural music and creating a television program for children, I am also moved by the fact that Mr. Rogers always seemed true to his original vision and never turned his program into the "next, hot trend".  Although he continued to address timely topics up to his last season of shows, every episode with Mr. Rogers had that same original magic of being quality time with a caring adult that made this series a mainstay of children's programming.
So, if you remember Mr. Rogers today, take a moment to think about his legacy and how easy it can be to share the qualities he expressed in his t.v. work.  Add a dash of patience, imagination, caring and creativity to anything you do.  Grab a comfortable cardigan.
Thanks to this gentle giant of kids media, it's going to be a beautiful day in your neighborhood.
Mr. Roger's Neighborhood appeared on PBS and was one of the first shows of it's kind for kids.  Since that time, PBS has gone on to offer amazing programming for children throughout the years.  You can find out more about this wide variety of programs  for children at the PBS Parents website.  Check it out at:  http://www.pbs.org/parents/