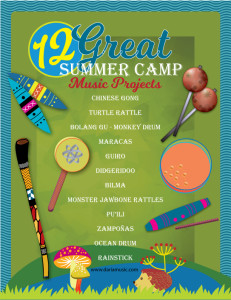 Music camp?  Backyard staycation?  Last minute playdate?  We've created this fun compilation of activity pdf's from our readers favorite projects for summer musical fun.  Not only are all these crafts made from items you already have around the house but they also teach about the cultural background of each instrument – such as Hawaiian pu'ili rhythm sticks or Aboriginal Australian didgeridoos and bilma clapsticks. And everything is so simple that even a grown-up can do it!
Want to win a copy? Jump on in right here!  Two lucky winners will get the this fun compilation so they can musically craft their way all around the world this summer.
If you can't wait to get it, the TPT link is below – and it's half price during the month of July. Plus there are links to related summer musical fun.
Links And Resources
12 Great Summer Crafts from DARIA's TPT store – https://www.teacherspayteachers.com/Product/12-Summer-Camp-Music-Crafts-3243132
Make An Ocean Drum From Recycled Materials – http://www.tinytappingtoes.com/babies-and-music/make-an-ocean-drum-for-world-oceans-day/
Make A Rhythm Tree: http://www.tinytappingtoes.com/early-learning-with-music/a-rhythm-tree-for-earth-day-or-any-day/
Make An Earth Day Nature Walk Rattle: http://www.tinytappingtoes.com/early-learning-with-music/make-an-earth-day-nature-walk-rattle/