This week we're excited to have a Halloween guest post from a wonderful children's artist who delights audiences near her home base in Florida – and around the world.  Meet Alina Celeste and check out  two of her favorite picks for English and Spanish Halloween musical fun!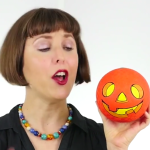 Autumn is always a crazy time for teachers, parents and homeschooling families. Most people are still adjusting to a new school year and there are so many holidays and events! Halloween is a fun one, and lends itself to all sorts of lesson plans and crafts. I've recently posted these two songs on my YouTube page, they were always a big hit with my students and their families.
The first song, One Little Owl, is an old English Folk song, it has a slightly sad and spooky feel even in its original form, so it seemed an obvious transition to put Zombies, Ghosts and Witches in the tree along with the owls and bats. I love having the kids suggest what else should be in the tree; I've gotten everything from Dinosaurs to Trucks to Princesses, and all are welcome! Everyone's favorite part is the end, when the poor tree can't take anymore.
The second song uses the melody from Alouette, one that nearly everyone knows. I came across it when I was looking for pumpkin-themed songs. I was teaching a Spanish language music class at the time, so I translated it for them. I've found since that I like the Spanish version better!
This song is such a fun, simple way to learn some basic vocabulary. It might even spark a conversation; my students and I often discuss what they and the pumpkin do and don't have in common, which is always entertaining. Unexpectedly, I've had several mothers of infants tell me this is the only song that will calm their children! I have no idea why but I'm glad it helps.
ABOUT ALINA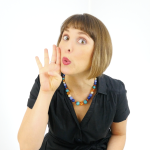 Alina Celeste is an internationally touring Family Musician and Teaching Artist based in Miami, Florida.  She posts songs and storytimes on her popular YouTube channel twice a week.  View and/or subscribe at: www.youtube.com/alinacelestemusic.
You can find more about her on her website: www.alinaceleste.com  or become a Twitter fan at @tiaalina.