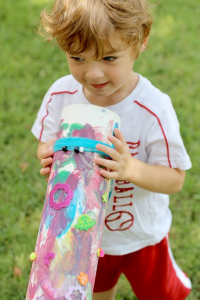 Did you know there's a special day to recognize Australia?
Celebrated on January 26th, Australia Day was previously called Anniversary Day and also Foundation Day. Over the years it has evolved to be less about colonial founding and more about celebrating the diversity and the changing face of modern Australia.
So what better time than this celebrate Australian culture and learn a bit more about "the land down under".

What Did That Didgeridoo?
Aaaaaaank! Does anything else make you think of Australia as quickly as hearing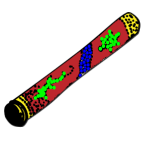 a didgeridoo?
Here's a link where you can learn more about the background of this instrument and also color or create your own homemade version of an aboriginal didgeridoo.  Or just laugh and giggle to the samples of the didg's wild "wooo wooo" sounds.  http://www.dariamusic.com/didgeridoo.php
Tap Out Time With Australian Bilma Clapsticks
Clapsticks are clearly one of the easiest instruments for kids. And although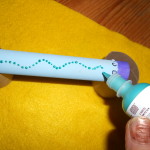 almost every culture has a version of this instrument, Australia bilma have wonderful dot design patterns that are fun to craft and create. Use the dot designs to learn more about what's important to Aboriginal Australians, because those are the animals, objects and patterns that appear most frequently in traditional Australian artwork and designs.
Here's a step-by-step craft tutorial to MYO bilma, complete with awesome dot patterns: https://www.teacherspayteachers.com/Product/Australian-Instruments-Make-Your-Own-Bilma-Clapsticks-1133140
A Bullroarer Makes A Buzz!
Used by several Native cultures around the globe, a bullroarer is a piece of wood on a long string that creates a truly unique sound when swung around in a circle. Rather then try to describe it, we'll let Jungle Jay demonstrate it for you here and offer a link for a much safer version you can make out of plastic water bottles.
http://www.tinytappingtoes.com/uncategorized/outdoor-musical-play-make-your-own-bullroarer/
Learn About Uluru/Ayers Rock
Throughout Australia there are many very special and sacred sites for the Aboriginal people.  One of the most important is called Uluru or Ayres Rock (in English).  It's a huge, red-colored stone formation that sits – literally – in the middle of nowhere.  In this kids music video, called "You Gotta Didg", you can see Uluru in the background while the didg is played and children dance.
10 Crafts For Australia Day!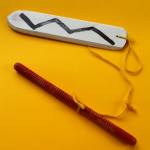 Aside from music, we love these additional crafts that celebrate what's truly unique and wonderful about Australia – from koala bears, kangaroos and wombats – to a hat with the theme of the Sydney Opera house. http://daycaredecisions.com.au/10-australia-day-craft-for-kids/
Wishing you a Happy Australia day as you discover more about this beautiful and diverse continent and nation!
Links and Resources
Australia Day – Official Site
http://www.australiaday.org.au/
MYO Bilma Aboriginal Clapsticks
https://www.teacherspayteachers.com/Product/Australian-Instruments-Make-Your-Own-Bilma-Clapsticks-1133140
Hear, Color or Make a Didgeridoo
http://www.dariamusic.com/didgeridoo.php
Make Your Own Bullroarer
http://www.tinytappingtoes.com/uncategorized/outdoor-musical-play-make-your-own-bullroarer/
10 Crafts For Australia Day! http://daycaredecisions.com.au/10-australia-day-craft-for-kids/
Australia videos from Multicultural Kids Music Vids
http://multikidsmusicvids.com/?cat=96