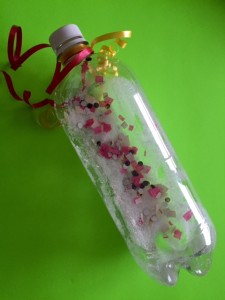 Confetti!  Who doesn't love it?
Although it can be messy, it's a fun part of so many celebrations.  And we often add it to many of our recycled rattle projects to add color and a bit of extra merriment.
So what's better then colorful confetti? Answer: recycling holiday wrapping to create your own endless supply of fun…con…fetti!  Here are three ways to make different kinds of confetti from extra holiday wrapping supplies.  Naturally, if working with younger kids, be aware of safety issues with scissors and substitute kid shears.  If working with very young children, you may want to make confetti in advance then allow them to choose or pour confetti through a large-mouthed funnel into your holiday rattles or crafts.
So don't throw out that holiday packaging! Here's how to make it part of your next celebration.
Hole Punch Confetti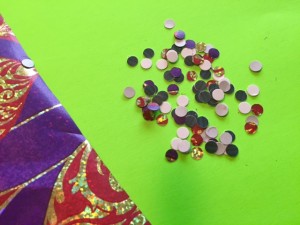 This is clearly the easiest method and makes perfect little circles.  Just cut squares of used wrapping paper (the brighter, the better) and put several together before you start punching. You'll easily find how many paper squares you can put together to get the most amount of confetti without straining your hand and your hole punch.
Other fun hole punches? Craft stores often have hole punches with different shapes and sizes, like stars and moons.  These make for wonderful additions to this project!
Cut Across Confetti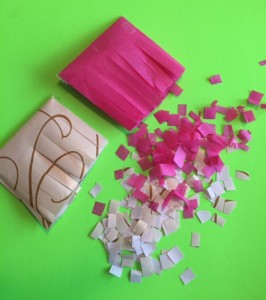 Cut squares of used tissue paper or wrapping paper and put about 4 – 6 together.  Tape one side to keep the papers together.  Then make long scissors cuts up toward the taped side, but not into the taped area. Once you've made these long vertical cuts, you can cut straight across (in the opposite direction) and it will yield nice little uneven squares of confetti.
Snip-A-Ribbon Confetti
Have lots of used ribbon? This method yields a bit less confetti, but still makes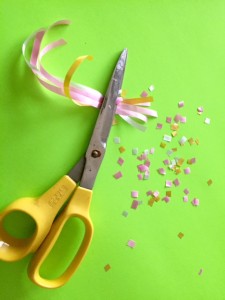 colorful little squares.  Simply hold 4 – 6 pieces of ribbon in your hand and snip across the top.  You can also cut longer pieces and make mock shredded paper.  Similarly you can curl ribbon and then cut the longer curls to add into your rattles.
Then, What?
By far, the two most popular confetti crafts are rattles and confetti poppers.  We have our rattle post below plus two different creative methods for MYO poppers (aka confetti cannons) in the links below.
Here's wishing you a happy and joyful celebration!
Make Your Own New Year's Eve Noise-Makers! http://www.tinytappingtoes.com/family-fun-2/make-your-own-new-years-eve-noise-makers/
Confetti Poppers From Push Pop Containers
http://www.thesitsgirls.com/diy/confetti-poppers/
Balloon Confetti Poppers From Adventures In Wunderland
http://adventuresinwunderland.com/balloon-confetti-poppers-new-years-eve-craft/