For many people, Iceland is a dream vacation. It's a land of geysers, glaciers,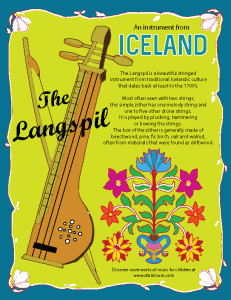 volcanoes, thermal lagoons, whales, exotic seabirds and gorgeous scenery. If you're on your way to the land of ice with your children or if you are simply studying this part of the world, here's a fun way to explore the music of that culture.
Color A Langspil
One of the traditional instruments of Iceland is a stringed zither called the langspil. Dating back at least to the 1700's, this instrument was often made of driftwood and played either by plucking it or using a bow, like a fiddle. The resulting sound was haunting and beautiful. You can hear a langspil in this video from an outstanding folk duo from Iceland, Duo Svanni (Júlía Traustadóttir Kondrup and Hildur Wågsjö Heimisdóttir).
Iceland For Kids!
Music is a wonderful place to start any exploration of another country or culture. Below you can find links to fun facts, common phrases in Icelandic, traditional clothing, things to do with children in Iceland and a post about an Icelandic rock music group that actually recorded a video of a song inside a volcano.
Enjoy your Icelandic Adventure!
Links And Resources
Free Langspil Coloring Page: https://www.teacherspayteachers.com/Product/Langspil-Icelandic-Instrument-Coloring-Page-3362012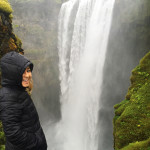 Langspil Mini-poster, Coloring page + Activities:  https://www.teacherspayteachers.com/Product/Langspil-Icelandic-Instrument-Mini-Poster-Coloring-Page-3362044
Iceland Facts For Kids: http://www.kids-world-travel-guide.com/iceland-facts.html
Icelandic Words And Phrases To Learn: https://icelandwithkids.com/2017/03/26/icelandic-words-and-phrases-to-learn-or-not/
Traditional Clothing Of Iceland:  https://en.wikipedia.org/wiki/Icelandic_national_costume
Iceland With Kids – A Family of Seven Visit Iceland And Offer Tips and Info
https://icelandwithkids.com/
Icelandic Music From Inside A Volcano: https://makingmulticulturalmusic.wordpress.com/2016/06/22/rocking-icelandic-music-from-inside-a-volcano/