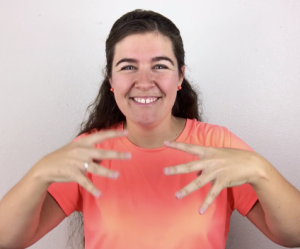 Have you ever seen an ASL (American Sign Language) translator interpret a speech, a discussion or a song?  It's an amazing ballet of graceful movement and dynamic expression.  In fact, although it doesn't use words or sounds at all, ASL is an amazing language that may already be part of your family's life!
What is ASL?
If you are deaf or hearing impaired or have a family member or friend who is deaf or who signs, you already know what American Sign Language is.  If you don't, here is one of the best definitions, from the NICED:
"American Sign Language (ASL) is a complete, complex language that employs signs made by moving the hands combined with facial expressions and postures of the body. It is the primary language of many North Americans who are deaf and is one of several communication options used by people who are deaf or hard-of-hearing."
Watch And Learn
Although becoming fluent in ASL could take years, it can be fun to dive in and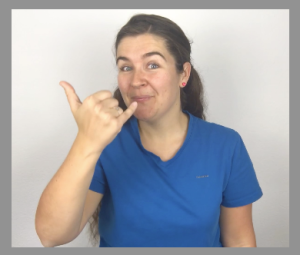 learn basic words by taking a course, studying online or – my favorite – by using music.  A few months ago I began to create ASL videos of my most popular songs and their links are below.  In addition to these songs, I've asked a wonderful ASL interpreter named Destiny Yabro (seen in the videos) to create extra videos explaining and demonstrating 10 signs from each song.  Below is the current list of ASL "Sign Along With Me" videos, but please bookmark and check back as I frequently add more.
Do you have a favorite DARIA song?  If so, contact me at dariamusic at yahoo dot com under the heading ASL Suggestion and I just might do your favorite song next.  Also, if you are a teacher and need these videos for your students in a format other then Youtube, please check out my TPT site, where you can stream them for use in the classroom.
DARIA's VIDEOS on YOUTUBE
You Are My Sunshine – 10 Signs Demonstrated
https://www.youtube.com/watch?v=UZPqfq4Bx6c
Beautiful Rainbow World – Signed in ASL
https://www.youtube.com/watch?v=oGLg0-wtXoU
Beautiful Rainbow World – 10 Signs Demonstrated
https://www.youtube.com/watch?v=gG_7OGoxHmg
For All The World's Children – Signed in ASL
https://www.youtube.com/watch?v=5mAuhwBytm0
For All The World's Children – 10 Signs Demonstrated
https://www.youtube.com/watch?v=qeDXLG34l7I
DARIA's ASL VIDEOS ON TPT – https://www.teacherspayteachers.com/Store/World-Music-With-Daria/Category/American-Sign-Language-ASL-336179
Resources And Links
What is ASL From The NAD – https://www.nad.org/…/american-sign-language/what-is-american-sign-language/
What is ASL From The NIH – https://www.nidcd.nih.gov/health/american-sign-language