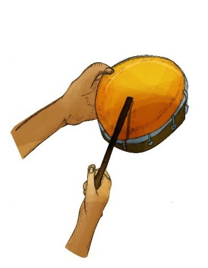 Recently a friend of mine came up with an exciting idea – to create a holiday to focus on making your own musical instrument. It's part learning, part creativity and part crossing cultures to share our common desire to have a blast, blast a horn, strum a stringed instrument or bang a gong!  With the first celebration scheduled for June 21, 2014, you can find out all about International Make Your Own Instrument Day at the link below.
Who created this new holiday that is more fun than donut day or national overalls appreciation week?  It was dreamed up by Jay Sand, guitarist and children's music teacher as well as the active dad of three beautiful young girls, ages 4-9.  Along with this holiday, Jay also created the All Around This World music curriculum as a way to introduce children to the countries he's already visited and the many more he hopes to visit with them.  Jay uses his music to really connect kids with a wide world of cultures and creativity.
And – you're gonna love this!  Every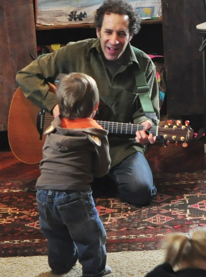 time Jay plays music he starts his show with a song he learned in Uganda called "We Are Happy".   It's a song that was originally used to greet special guests who came to visit the tribe in Africa, but  Jay's changed a few things and now it's a great way to begin any activity or put a smile on any child (or adults) face.   You can read about the "We Are Happy" song at the post below.
So – on June 21st or any day -  be happy, create an instrument and make some joyful noise!
Resources And Links
International Make Your Own Instrument Day
http://www.allaroundthisworld.com/international-make-your-own-instrument-day/
All Around This World Music Programs
http://www.allaroundthisworld.com/
We Are Happy – A Song Of the Abayudya of Uganda
http://makingmulticulturalmusic.wordpress.com/2014/06/15/we-are-happy-a-song-of-the-abayudya-of-uganda/